Bionicon c.guide v.02 Review
Reviewed by:
Essex Herts MTB
-

We're testing a chain retention device from Bionicon. It can be fitted to most frames, looks trick & will stop your chain coming off. We find out if its as good as it sounds.
A new take on retro cool
In the not so distant past, the height of cool was.... white Onza Porcupines, Purple Bar Ends, a Flite Titanium Saddle and a DCD (Daves Chain Device). The DCD bolted onto your chain stay and the chain fed through it. Bionicon has a modern take on this, the C-Guide. There are many other chain systems out there now, and the recent introduction of the clutch derailleur, means the C-Guide has much more competition that the DCD ever did.
What Bionicon say
The whole construction is 2 part so allowing fitting over the gear cable & chain with no disassembly! Fitting is even quicker than before.
The c.guide v.01 required the gear cable to run along the underside of the chainstay for optimum fitting. Version v.02 can be fitted to any bike with a normal chainstay design. This increases the number of potential users enormously.
The c.guide can still be fitted over the gear cable meaning the cable hinge is not needed. This gives a small weight saving & a cleaner look.
The guide tube now features a pivot & follows the chainline much better whether with 2 or 3 chainrings. Reduced chain noise & lower wear are the result.
Bionicon now offers black, red, blue, green, pink & gold colour options.
Weight 18g
Price £35
Contact http://www.bionicon.com
Lots of test info & detailed set up guides over here http://www.c-guide.org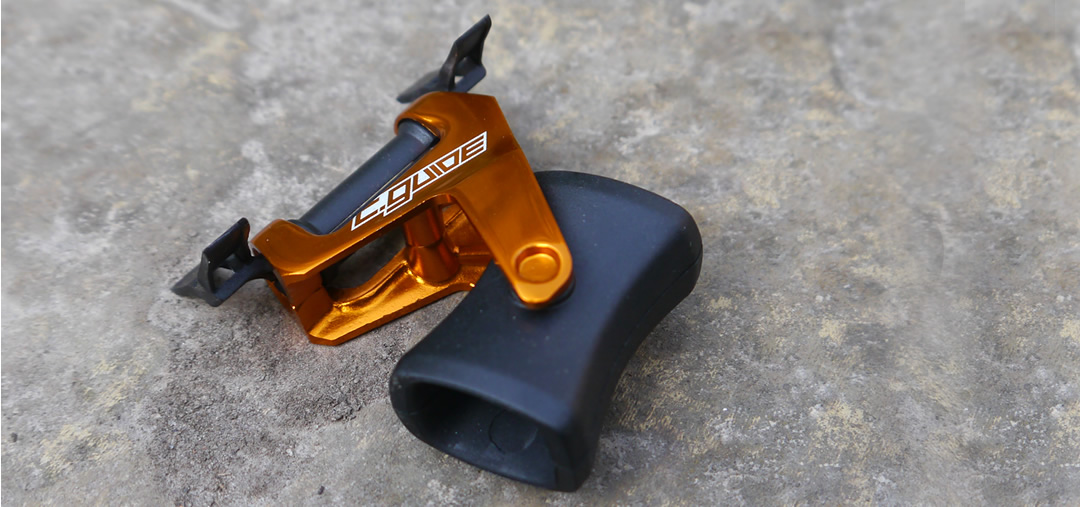 Features and design
V2 is an improvement over V1 in that it doesn't need to be mounted to the underside of a chainstay with a hose to bind onto.
Set up is simple. The entire assembly splits in half to allow the chain to pass through the guide without disconnecting anything on the bike. Or you can split the chain and feed it through.
It is much quicker to install / remove than ISCG mounted chain devices.
The Bionicon C-Guide allows you to run a chain device option if you don't run ISCG tabs. This can breathe life back into am old frame.
The C-Guide has no bearings, bushings rollers or jockey wheels. There are no moving parts.
The slick looking alu carrier handles the side to side movement and the plastic guide deals with the up and down. This keeps the guide in line with the chain at all times and keeps the C-guide quiet.
The quality of the anodising on the C-guide is superb. It has that deep ano lustre to it, like you get with high end headsets and hubs. Lovely!
Packaging is good and instructions are clear. There is good online info as well.
Its so light that there is no real penalty for running it.
The zip ties will not be big enough for all bikes. It fitted our test bike fine but, would have needed longer zip ties on an alu full susser that we thought about putting it on.
Expensive for what it is, but you could argue.... not for the performance improvement it brings.
Wont work on elevated stay bikes eg Orange, Turners etc
In use
There was very little noise from the chain running through the guide. A well lubed chain will minimised it further
The C-Guide worked well across triple double and single ring set ups
Shifts seemed a bit faster. I imagine it's the increased tension pulling the chain in place quicker.
There was no noticeable extra stiffness in shifting.
It works well with a clutch derailleur. There don't appear to be any issues in using them together.
There is still a place for it even with a clutch derailleur. Chain slap is reduced even further. Our findings mirror this test from Bionicon
Many people are upgrading to 10 speed simply for the features of the clutch derailleurs. Adding the Bionicon C-Guide will quieten down your drivetrain and add chain retention for a lot less money.
The added tension on the chain means it's a bit more fiddly getting the chain back on if you choose to split it.
Final Thoughts
The Bionicon c.guide v.02 is a new take on an old idea. The product is well finished with first class instructions & information to get your set up right. The anodised finish looks great & it has a quality feel to it. It quietens the drive train down and at the same time will keep your chain on. We love the way it can add these features to an non ISCG frame. It might seem pricey but the performance enhancements it brings means it's well worth the money.
Find out more about the
Bionicon c.guide v.02 here
.