Mountain Biking in Essex Hertfordshire & London
Gallery - Videos & Pictures
Here are some videos & pictures from our rides. For the full gallery
click here
.
MTB Trails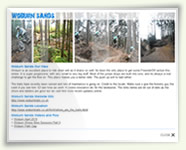 We mountain bike all over the South East but mainly in Essex Herts & London. There is a
page with info on where we ride
. It has maps, tips and links to the locations website sites.
The main areas are Epping Forest, Woburn Sands, Aston Hill Bike Park, Chicksands, Danbury and Thorndon. Most trail rides are focussed around Epping Forest and Thorndon. There is some cracking singletrack there if you havent tried it.
More info over here
.
The Forum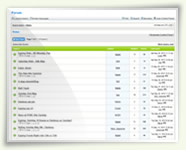 This is what the site is all about. Its the place to organise mountain bike rides and see what is going on. new faces are always welocme and its easy to sign up. There is usually more than one ride going on each week. Pop by and say hello!
The forum can be found here
.
Latest Forum Topics
bikemag | 21 Feb 2018 | 10:42 pm
bikemag | 21 Feb 2018 | 10:19 pm
bikemag | 21 Feb 2018 | 10:06 pm
bikemag | 21 Feb 2018 | 7:19 pm
www.vitalmtb.com | 21 Feb 2018 | 6:48 pm
www.vitalmtb.com | 21 Feb 2018 | 6:34 pm
bikemag | 21 Feb 2018 | 6:34 pm
Ride It Out | 21 Feb 2018 | 6:32 pm
Ride It Out | 21 Feb 2018 | 6:20 pm
Ride It Out | 21 Feb 2018 | 6:12 pm
Wideopen Magazine | 21 Feb 2018 | 5:53 pm
Singletrack World | 21 Feb 2018 | 5:50 pm
Singletrack World | 21 Feb 2018 | 5:50 pm
Singletrack World | 21 Feb 2018 | 5:50 pm
Wideopen Magazine | 21 Feb 2018 | 5:40 pm
Wideopen Magazine | 21 Feb 2018 | 5:33 pm
Wideopen Magazine | 21 Feb 2018 | 5:14 pm
www.vitalmtb.com | 21 Feb 2018 | 4:29 pm
Dirt | 21 Feb 2018 | 4:11 pm
MBR | 21 Feb 2018 | 12:50 pm
MBR | 21 Feb 2018 | 12:11 pm
Singletrack World | 21 Feb 2018 | 11:50 am
Singletrack World | 21 Feb 2018 | 11:50 am
Singletrack World | 21 Feb 2018 | 11:50 am
MBR | 21 Feb 2018 | 11:45 am
MBR | 21 Feb 2018 | 11:23 am
Singletrack World | 21 Feb 2018 | 10:59 am
Singletrack World | 21 Feb 2018 | 10:59 am
Singletrack World | 21 Feb 2018 | 10:59 am
www.vitalmtb.com | 21 Feb 2018 | 10:56 am
Singletrack World | 21 Feb 2018 | 9:41 am
Singletrack World | 21 Feb 2018 | 9:41 am
Singletrack World | 21 Feb 2018 | 9:41 am
MBR | 21 Feb 2018 | 9:30 am
MBR | 21 Feb 2018 | 9:00 am
Wideopen Magazine | 21 Feb 2018 | 8:09 am
Pinkbike.com | 21 Feb 2018 | 8:00 am
Pinkbike.com | 21 Feb 2018 | 8:00 am
Pinkbike.com | 21 Feb 2018 | 8:00 am
Pinkbike.com | 21 Feb 2018 | 8:00 am
Pinkbike.com | 21 Feb 2018 | 8:00 am
Pinkbike.com | 21 Feb 2018 | 8:00 am
Pinkbike.com | 21 Feb 2018 | 8:00 am
Pinkbike.com | 21 Feb 2018 | 8:00 am
Wideopen Magazine | 21 Feb 2018 | 7:50 am
Wideopen Magazine | 21 Feb 2018 | 7:00 am
bikemag | 20 Feb 2018 | 10:39 pm
www.vitalmtb.com | 20 Feb 2018 | 9:39 pm
Dirt | 20 Feb 2018 | 8:35 pm
bikemag | 20 Feb 2018 | 7:52 pm
www.vitalmtb.com | 20 Feb 2018 | 7:21 pm
bikemag | 20 Feb 2018 | 7:14 pm
www.vitalmtb.com | 20 Feb 2018 | 6:53 pm
www.vitalmtb.com | 20 Feb 2018 | 5:23 pm
Singletrack World | 20 Feb 2018 | 1:50 pm
Singletrack World | 20 Feb 2018 | 1:50 pm
Singletrack World | 20 Feb 2018 | 1:50 pm
MBR | 20 Feb 2018 | 12:32 pm