Blacksprire Der Guide Chain Device Review
Reviewed by:
Essex Herts MTB
-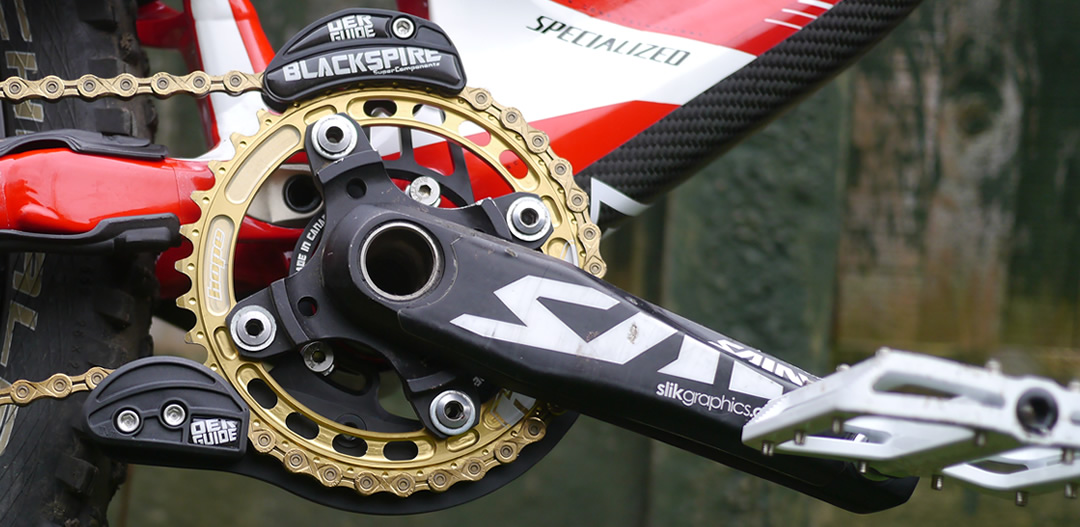 A Canadian chain guide with no moving parts. How does it cope with the muck & grime of a British winter. The Blackspire Der Guide is put to the test.
The Specs
CNC'd 6061 T-6 Guide Frame
Lightweight moulded thermoplastic components
German engineered, made in Canada (explains the name I guess)
Designed to be the most efficient chainguide ever produced. Made in as few pieces as possible & has no moving parts.
Captive hardware.
Integrated BEAVERTAIL bashguard protects your chainring.
Bash slider is made from a proprietary polymer.
No drag! DER guide does not put resistance on the chain like pulley wheel chainguides & it is Super Silent.
Available in ISCG, ISCG'05
Available in Black, Blue, White, & Red
BB mount available by using Blackspire DER ISCG'05 adapter
Weight 147g (32-36t)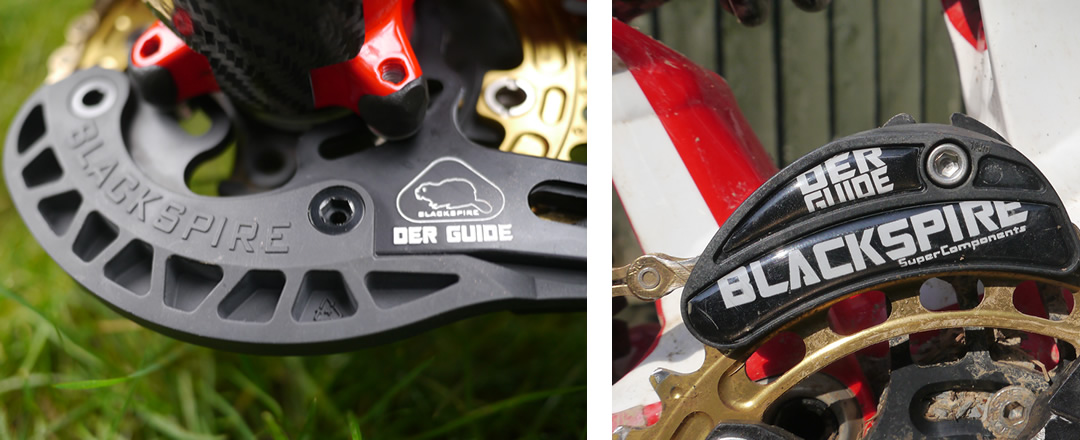 "Jockey wheels suck. I'd have to be nutts to add another jockey wheel to my drivetrain... right?"
No moving parts... whats the big deal?
Jockey wheels suck. They seize up & wreck your shifting. While we wait for Shimano & SRAM to give up on their derailleur gravy train, we will have to put up with them. With that in mind... I'd have to be nutts to add another jockey wheel to my drivetrain… right? Unfortunately most chain guides mean you have to do just that.
There are alternatives however. Straitline offered us a zero moving parts solution a while back. It's a solid product but I've always preferred the ISCG mounted bash solution. The Blackspire DER Guide is the first ISCG mounted taco bash with no moving parts. How does this stack up against the current MRP & E-thirteen guides which dominate the market?
Design & setup
It's light - 20g lighter than a lg1+
The spacers allow for very precise adjustment.
The mounting bolts are good quality steel.
With its very small top guide it can fit awkward suspension designs easily.
The range of adjustment on the ISIG tabs is wide, helping with setup.
It's easy to get access to the cranks & this can be done by removing just one bolt.
The setup uses captive bolts which do their job. The top guide is particularly quick & easy to remove.
It comes in a very cool box plastered in beavers! Semi-aquatic rodents for the win.
With a 36 tooth ring the guide is a tight fit. The range of adjustment should be a bit more generous to allow for either a tight or loose 36 tooth fit.
It doesn't offer the same level of adjustment as say an lg1+ where you can adjust the angle of the bash & top guide independently of each other.
It doesn't offer a guide / markings as to where you should set it up for each chainring size.
The set up instructions are poor. Particularly around getting the spacing right. You have to get them off the internet which is a pain.
The DER Guides rivals are more refined. Similarly priced E-thirteen & MRP's are full of polished polymers, sharp lines, & detailing that makes you feel ok spending £100. The DER guide is a lot more 'workmanlike'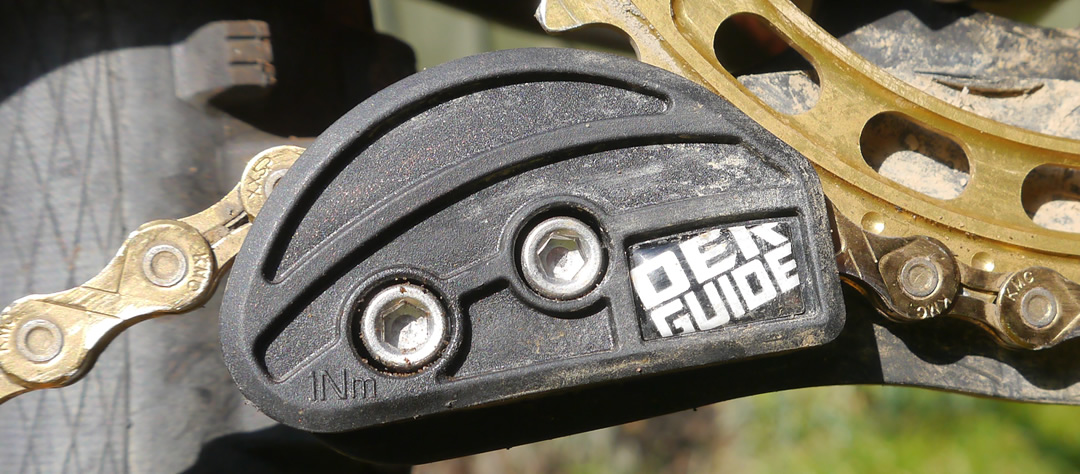 "Big plastic chain guards ruin the lines of a frame in my opinion. The Blackspire is small & tidy."
Performance & durability
I haven't lost a chain using it thus far.
The bottom guide is not the hard plastic that e-thirteen use but more of a rubbery compound. This seems to offer more shock absorption than a solid polymer & might be more resistant to cracking in the long term.
The bash has taken some hefty smacks & remains in one piece.
The guide is very quiet... except in the very lowest gear where there is a bit of rub.
The top guide has an open bottom (behave). Not including the bottom seems to reduce noise without sacrificing the devices ability to keep the chain in place.
The guide is extremely low profile… honking great plastic bash guards ruin the lines of a frame in my opinion. The Blackspire is small & tidy.
The taco due to its rubbery nature ends up shedding like any rubbery product does. Little strings / flakes or rubber can be pulled off from where there have been impacts.
The exposed honeycombing looks good and saves weight but just collects mud. So you gain the weight back unless your always cleaning it.

Test Info
Tested on - DH bike
Tested when - Winter, spring
Tester riding style - loose & sketchy... loves to plough! Has been known to case so bad, he needs a lawyer!
Level of care for kit - not a lot. Left wet & muddy & regularly blasted with a hose.
Other chain devices used - E*thirteen LG1, E*thirteen LG1+, MRPG2, Blackspire
Final Thoughts
The Blackspire DER Guide is the chain device that I have been waiting for some time. Its low profile, light & has no moving parts. Win win win. It does its primary job of keeping the chain on & chainring protected very well. There are a few areas where it needs refinement & it seems like a bit of a missed opportunity in that respect. A more polished finish & better adjustment / setup options & this would be the 'go to' chain device. As it is it's a strong option if you don't like moving parts.
Find out more about the
Blackspire DER Guide here
.