Blue Flow Hydro Wheels Review
Reviewed by:
Essex Herts MTB
-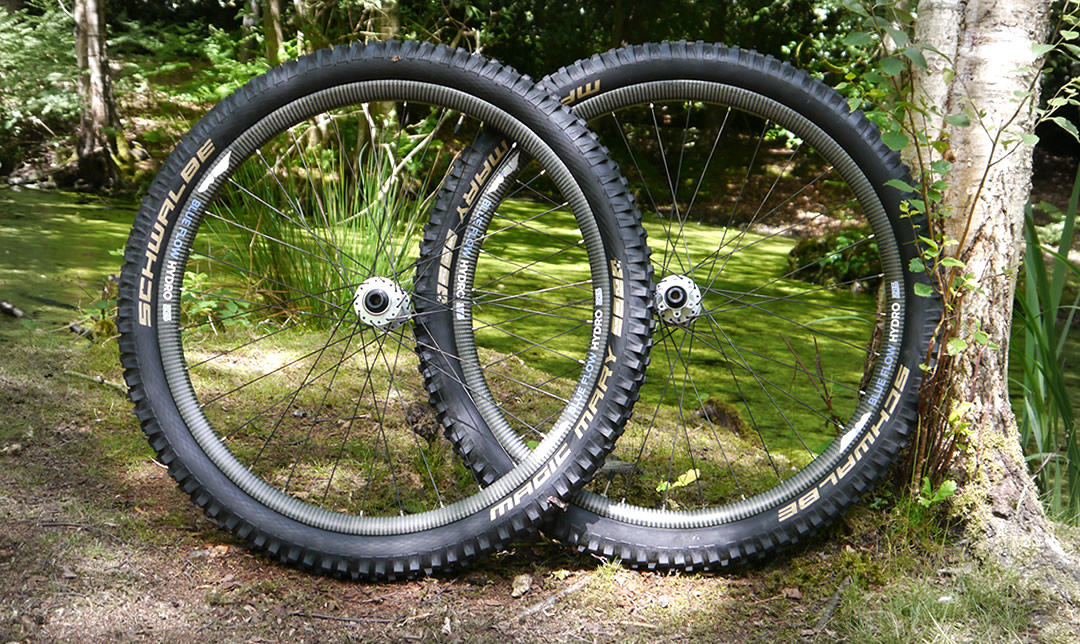 We review the Blue Flow Hydro Wheels. British built, wide carbon wheels, on Hope hubs, at a sensible price. Sounds good but how do they ride?
Blue Flow Hydro Wheels - Introduction
It's taken a few years for carbon to gain acceptance as reliable material for rims. However recent trend for wide rims however has meant that its becoming more popular. It's the only material you can use use when building a 30mm+ rim, if you want to keep the weight down. Up till recently carbon wheel-set options have been limited to ultra-expensive US built wheels, or cheaper offshore direct buy options.
Blue Flow are offering a hybrid option with their Hydro Wheels. British laced wheels, with offshore sourced wide carbon rims, on Hope hubs. They come in at a price to compare with the direct buy imports, but with UK based support. It sounds good but how do they ride? We find out.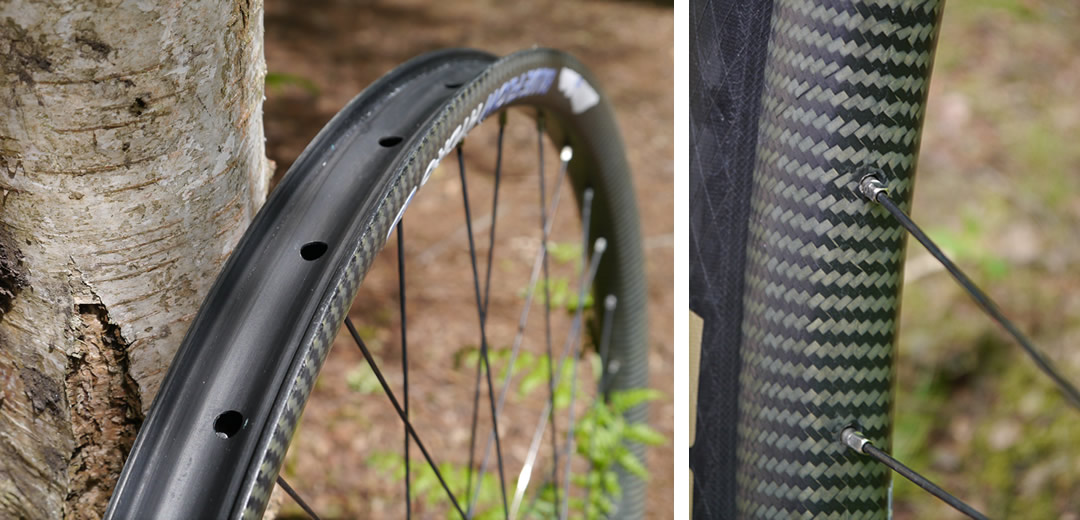 "The Kevlar protection offers looks unique and is an integral part of the rim, with clean edges around the bead and spoke eyelets."
Blue Flow Hydro Wheels - Specification
35mm external, 30mm internal width, hookless bead carbon rims.
Available in UD or Kevlar finishes.
Hand built in the UK.
Built on Hope Pro 2 Evo hubs supplied in any wheel or freehub fitting. Blue Flow can also build your rims on your own hubs if you prefer.
Supplied tubeless ready including rim tape.
32 spokes per wheel.
DT Swiss Comp spokes.
Weights: 27.5 = 1825g per pair +/- 30g: 29er = 1900g +/- 30g
One year manufacturing defect warranty
2 year crash replacement policy
Wheels start from £669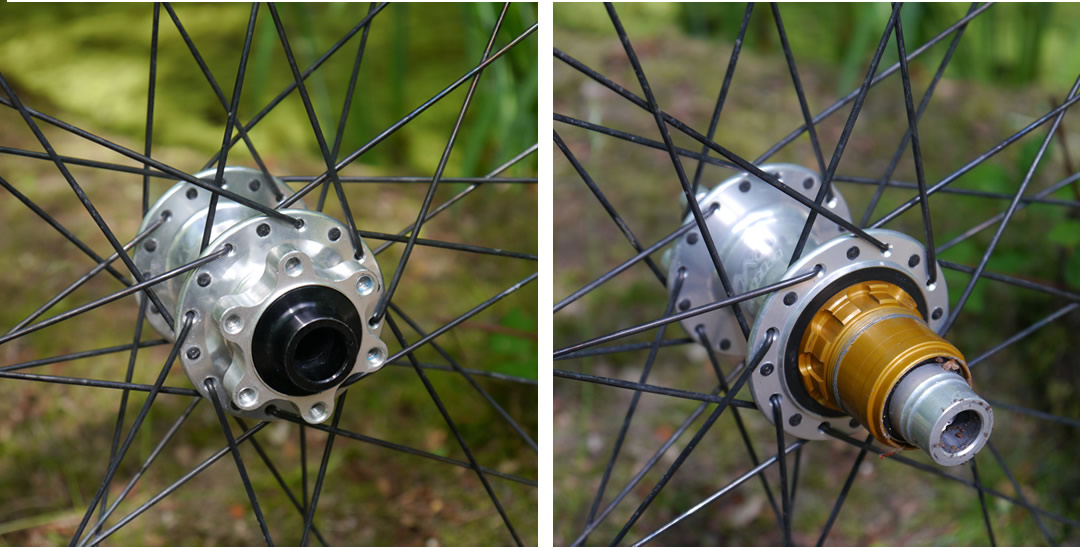 "Hope hubs are reliable, adaptable and easy to service."
Blue Flow Hydro Wheels - First Impressions
The Blue Flow Hydro's come well packaged and protected. Delivery from Blue Flow was quick and came with tracking.
Out the box the wheels were true with accurate dishing and even spoke tension.
The rims have a good finish to them. Key areas like around the valve hole are smooth and without burrs. The carbon is in 2 sections.
The Blue Flow Hydro's come fitted with Stan's tape which is a nice touch, You really should be using these tubeless so it's one less job to do. All that's required is to punch a hole for the valve.
The Kevlar protection offers looks unique and is an integral part of the rim, with clean edges around the bead and spoke eyelets.
Hope hubs are reliable, adaptable and easy to service. Given a choice they are the hubs we always use for our builds.
DT Swiss Comp spokes are a good blend of strength and weight. They are easy to replace if needed.
The Blue Flow Hydro's weight is competitive. The claimed weight is 1825g +/- 30g. On our scales they came in at 1827g with Stans tape. For burly AM / Enduro rims they are average but with bonus of a much larger than normal profile.
The rims graphics weren't to everyone's taste. It would be good if the decals covered a bit more of the rim to offer some scuff protection. The Kevlar coating looks good but only comes on one fairly distinctive colour-way.
Wide rims aren't going to work well with tyres less than 2.2 in width. It's a minor point as for Enduro your probably not going to be running anything that narrow anyway. The squaring off of the tyre carcass, that the rim profile creates, also works better with some tyres than others. It's just an extra bit of research to do, before buying your next set of tyres.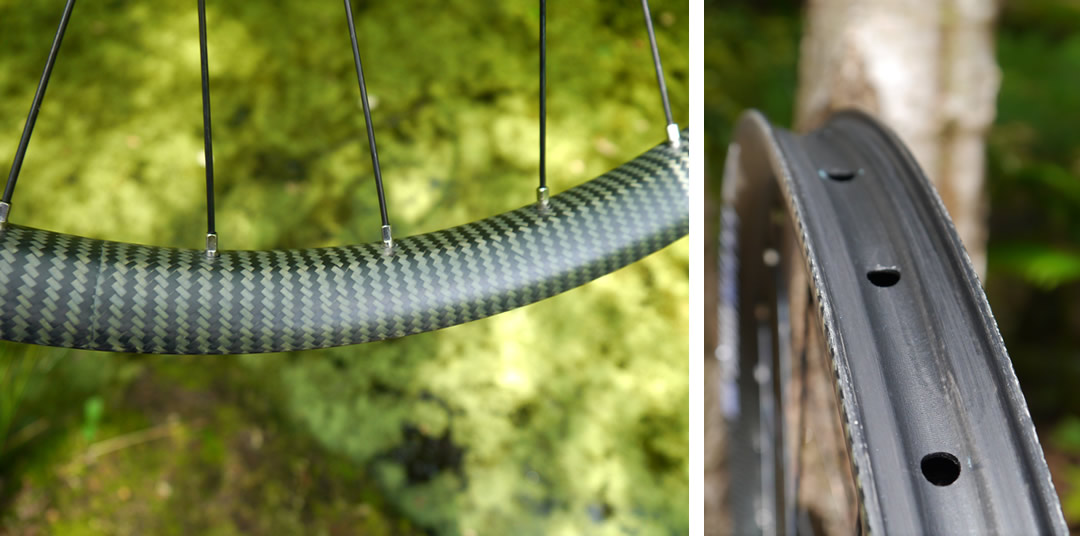 "35mm external, 30mm internal width hookless bead carbon rims, hand built in the UK"
Blue Flow Hydro Wheels - Set Up
Getting a set of tyres mounted was very easy. We tried both Maxxis and Schwalbe, and could roll tyres onto the rim without using levers.
A standard set of Stan's valves fitted the rim profile well, but did need to be tighten down fairly firmly to seal properly.
Seating the bead was straightforward. A simple ghetto bead seater worked every time. Once on the bead stay put.
All the tyres we tried, interfaced well the pre fitted Stan's tape and the rim. We used 90ml of sealant. Once sealed and inflated, we measured a 1psi pressure loss over 4 weeks. That's as good as any tubeless system we have run.
As expected the Hope hubs were great. They slotted into 20mm forks and the 12 x 142 mm rear end without issue, and ran smoothly for the whole test.
Blue Flow Hydro Wheels - Ride & Durability
We spent most of our time on Magic Mary 2.4 tyres. The wide 30mm internal profile of the rims gave the German rubber a great shape. It allowed the tyre extra volume and squared up the side-walls. The knock on effects of this were significant. Stiffer side-walls meant we could run lower pressures. The broader shape gave better braking and cornering grip. 30mm is in our opinion the current sweet spot for wide rims. Any wider and tyre choice becomes too constrained.
Despite running lowish pressures 23 - 27psi we have never burped a tyre on these rims. The hookless bead and broader tyre shape does a good job of keeping the bead to rim interface intact.
Carbon is a stiff material and when built into a wheel can give feeling of zip and ping that alloy rims cant replicate. You can notice the difference when riding them. The downside to this can be a harsh ride. Blue flow have tried to temper this by building their wheels with less tension. The result is that there is a softer feel to these carbon rims without loss of stiffness and ping.
The relatively light weight and responsiveness of the carbon rims meant that the wheels felt like they spun up quickly. Any movement you put through the bike and the wheels was rewarded with forward momentum rather than flex.
The wheels stayed straight and true throughout the test.
The Kevlar coating really does offer a durable outer layer. Despite giving a good thrashing across some rough rock gardens we couldn't see any marks. We also have had some time on the UD rims which as you would expect are more susceptible to scuffs. However they have also been bearing up well.
We didn't have any durability issues with the test wheels we were sent. However other sets we have seen, have had more spokes loosen up than we would like. This is the opportunity cost of the lower tension that Blue Flow have opted for. If it's a concern, talk to the guys and ask for a tauter build to counter this. They can run through the pros and cos of each approach.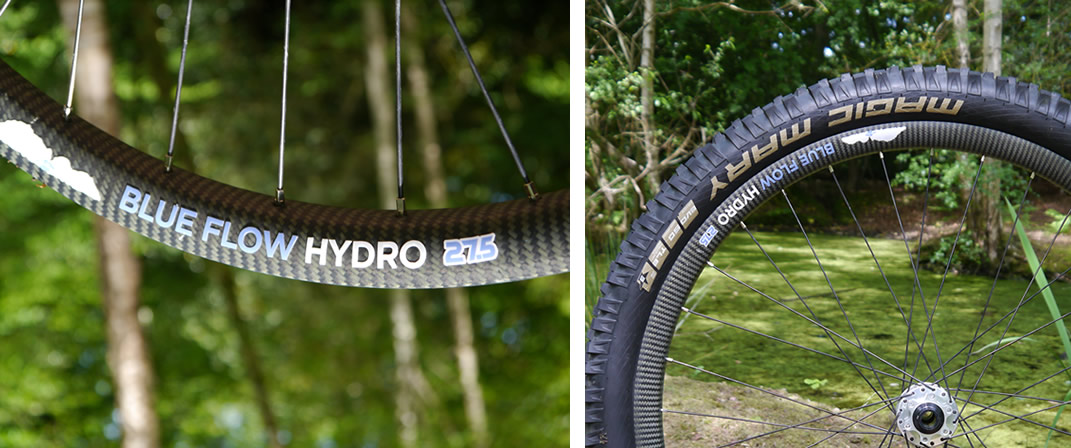 "The wheels we had stayed straight and true throughout the test"
Blue Flow Hydro Wheels - Test Info
Size tested – 650b
Tested – Spring / Summer 2015
Riding – UK trail centres, UK DH, The Alps.
Care level - Good. Washed and cleaned after every ride.
Fitted to - YT Capra, Orange Alpine 160
Similar products used – Mavic Crossmax Enduro, SRAM Roam 60, Halo Vapour Carbon
Blue Flow Hydro Wheels - Final Thoughts
Overall we had a great experience with the Blue Flow Hydro's. Wide rims offer a lot of advantages in terms of grip and traction. Using carbon keeps the weight at a good level. The rims were very easy to get tyres onto and to set up tubeless. The wheel-set was stiff horizontally for accurate tracking but complaint enough vertically to take away some of the trails harshness. Its personal preference as to whether you would prefer a stiffer build, but it's something you can discuss with Blue Flow if needed.
Blue Flow offer a solid 1 year manufacturing defect warranty, 2 year crash replacement policy. As importantly you can pick up the phone and talk to Craig or Stuart at Blue Flow. Both are passionate bikers who understand what riders need. That counts for a lot. It is a big advantage when compared to the offshore alternatives. The wheels also come in at a good price, in comparison to the competition. We think they are well worth checking out.
Find out more about the
Blue Flow Hydro Wheels here
.