Canyon Nerve AL+ 6.0 Review
Reviewed by:
Essex Herts MTB
-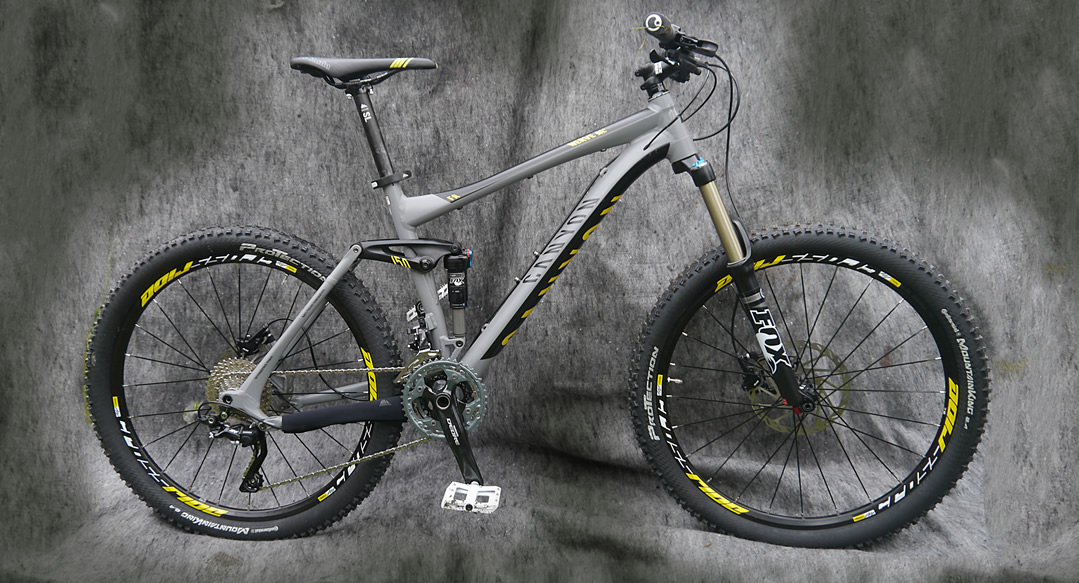 We're testing the Nerve AL+ 6.0 from Canyon. This 150mm German trail tamer offers lots of kit for the money. But how does it ride? Essex Herts MTB tests it out.
Introduction
The Nerve AL+, is based on Canyon's Nerve AM, but adds more travel, slacker angles and burlier kit. It has an impressive kit list for the price, and a proven frame design. The addition of future proof features like taper head tube, x12 rear axle and dropper post routing point to solid platform from which you can upgrade. We see how it all hangs together out on the trail.
Specification
Frame - Canyon Nerve AL+
Shocks - Fox 32 TALAS CTD Evolution Fork & Fox Float CTD Evolution LV Rear
Headset - Cane Creek Series 40
Gears - SLX & XT
Brakes - Avid Elixir 3 - 200mm front, 180mm rear
Wheels - Mavic Crossride Disc
Tyres - Continental Mountain King II
Cranks - Shimano Deore
Handlebar & Stem - Race face
Grips - Ergon GA-1
Saddle - Selle Italia X1
Seat post - Iridium SL
Also included - Canyon Torque Wrench, Shock pump, handbook
Travel 150mm F&R
Sizes - S, M, L, XL
Weight - 13,40 kg / 29.5lbs
Head tube angle: 67° | Seat tube angle: 74° | Chainstay length: 427mm | BB offset: -5mm
All the Canyon Nerve AL+ stats you could ever want are over here
RRP of the Canyon Nerve - At the current exchange rate is £1539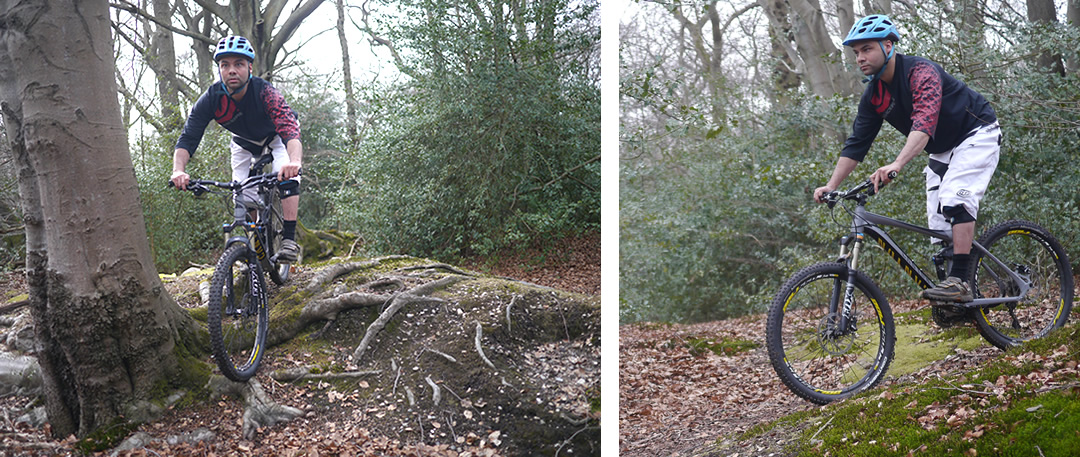 The neutral frame and stiff wheels carried speed and instilled confidence.
The Canyon Nerve frame
The frames angles are new school, with a relaxed head and relatively steep seat angle. This is the recent trend for aggressive AM bikes. It gives you a slack platform for descending when you are standing up, and a forward weight bias when seated for climbing. It works well and give the bike a nice looking 'stance'.
The Canyon Nerve's welds are neat, and the frame feels well thought out and put together. Extensive hydroforming puts metal where its needed, but keeps weight to a minimum.
The suspension layout is the well proven 4 bar design. Non US firms have been able to use this patent free for years, and have pretty much perfected it. The slightly rearward axle path gave a bit of chain tension when climbing, but was supple when on or off the power.
The Canyon Nerve's internal routing is neat and helps give the frame clean lines. The front mech routing in particular is trick and demonstrates that Canyon has spent time thinking about the details.
The paint on the Nerve is good quality, scratch resistant and the styling clean and bold. Each Canyon model comes in 2 colours.
The frame came already equipped with cable rub patches and hose protection. The large down tube sticker is thick vinyl, and is designed to protect the framefrom rock chips. Chain slap prevention is good with a tidy guard pre fitted. We didn't fit any other protection in the test and had no noticeable cable run or slap appear at the end.
The Canyon Nerve's head tube is the now default taper 1 1/8 to 1 1/2.
The down tube is massive and must contribute to the frames overall stiffness. It's bigger than our DH bikes.
The frame has bottle mounts which are useful if you need them for water, lights or whatever battery powered suspension or gearing comes our way in the future.
Asymmetric stays give chain slap clearance and save weight on the non-drive side.
Internal reverb routing is a good feature at this price. The Nerve's frame also features routing options for non-internal posts if needed. All bases are covered, and it feels like a frame you can extensively upgrade.
There is good mud clearance even with beefy 2.4 tyres.
The frame comes with a relatively low BB which makes is planted in the corners.
The Canyon Nerve's bearings are good quality. We cycled the rear end by hand after a hard British winter showed no issues with wear or dirt getting in. If required the bearings looke easy to service.
The Medium we tried would be spot on for riders 5"8 to 5"11. We are not sure how accurate the sizing chart is on the Canyon site. Use the seatube and reach figures and to compare it to something you know fits well.
Stand over on the Nerve could be a little better. We have ridden other frames which have felt more compact.
The Canyon head tube badge is a little bit of an afterthought. Maybe we are a bit old school but a nice raised head badge is cool.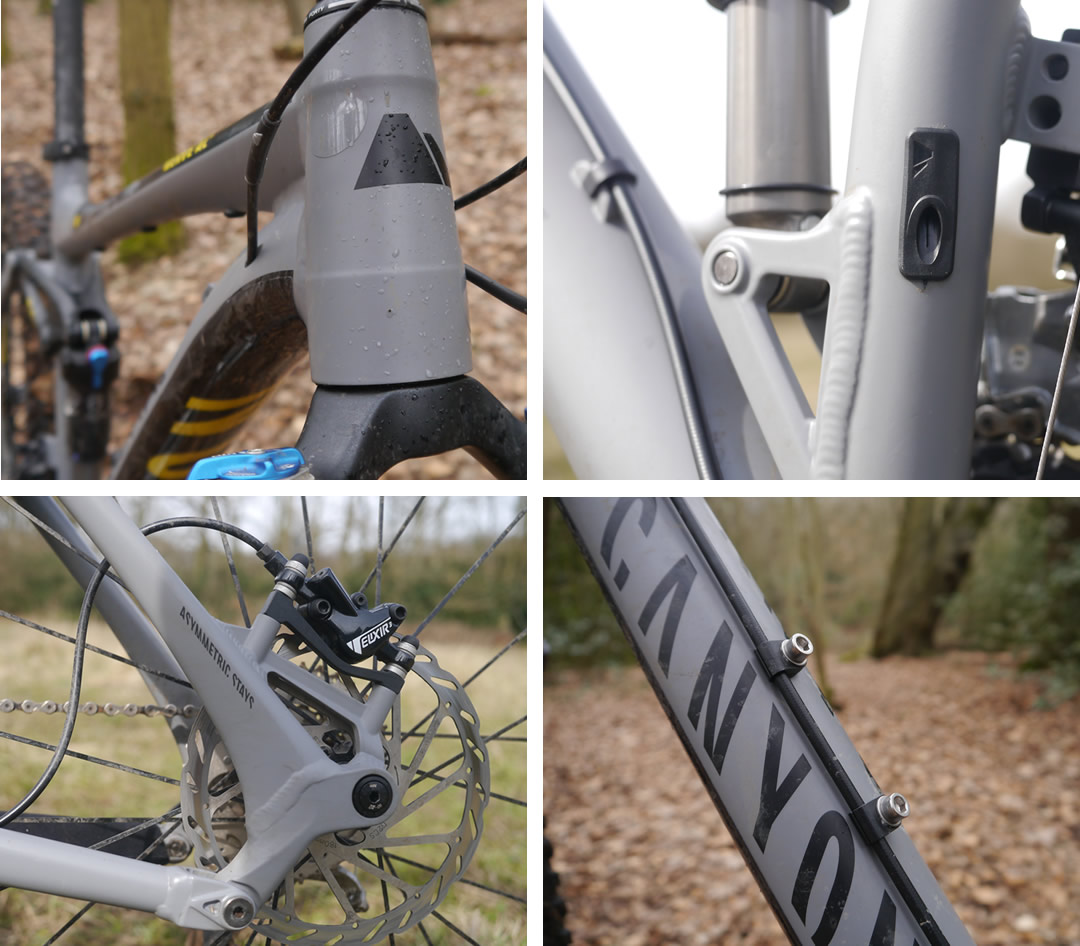 The Canyon Nerve's welds are neat, and the frame feels well thought out and put together.
The Suspension
The Canyon uses a Fox 32 Talas CTD Evolution Fork & Fox Float CTD Evolution LV Rear. An expensive inclusion at this price point.
With Fox CTD, and its 3 pre-sets of compression dampening it was easy to stiffen up the Nerve's suspension for climbing.
The bike pedaled very well even with 150mm out back. There was a noticeable lack of pedal bob even in the trail setting.
The 150mm 32 stanchioned forks were stiff enough despite our initial doubts. They never felt overly flexy. Harder / heavier riders may find their limitations in the rought stuff however.
Despite the positives above, overall the compression tune on both the forks and the shock was little light for really aggressive riding. This is an issue http://www.pinkbike.com/news/Fox-Racing-Shox-Changes-its-Tune-CTD-Gets-More-Compression-Dampi.html that has affected all 2013 FOX CTD shocks this year. You might have to run the front and rear air pressures a little harder than normal counter this. We never used the DH setting as the compression tune in that setting is just too light.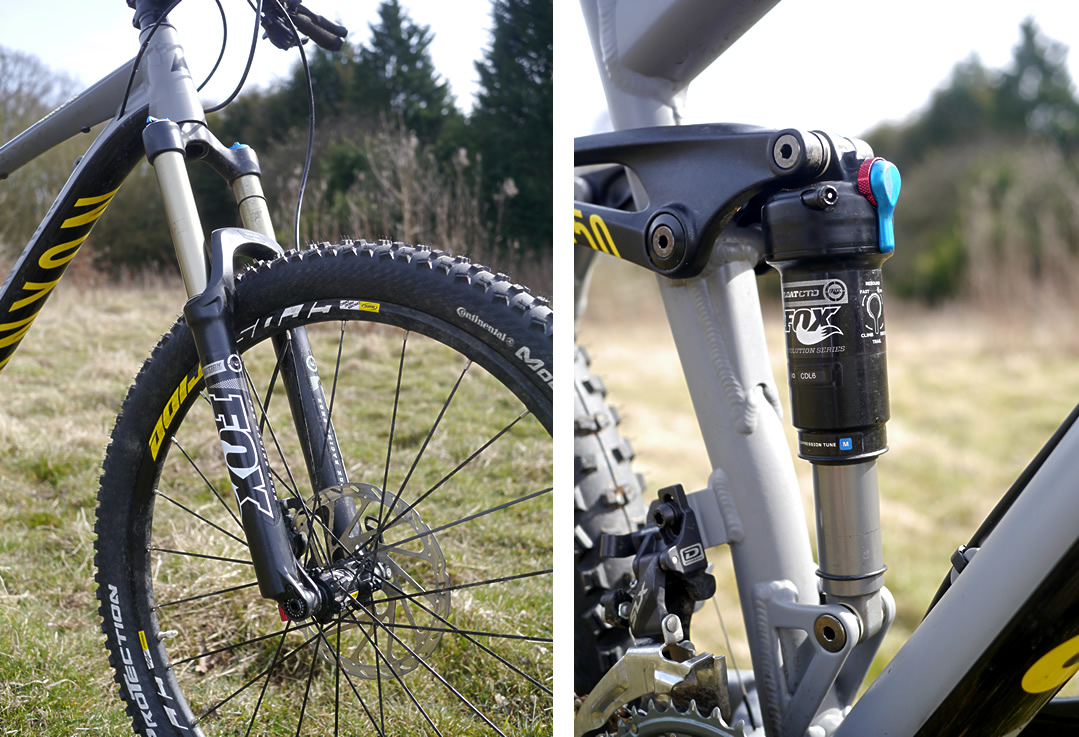 The bike pedaled well even with 150mm out back. There was a noticeable lack of pedal bob.
Equipment
A Race Face branded stem and seat post and Crank Bros seat post and saddle are great to see at this price point.
The Cane creek headset survived a lot of jet washing and winter abuse.
Spacers under the stem offered enough steerer length to allow for a sensible amount of adjustment.
Deore Hollowtech cranks are easy to work with and stiff.
The SLX shifter and XT mech with clutch are nice to see and work well as you would expect.
The Canyon Nerve's wheels are Mavic Crossride Disc. With their bladed spokes and reasonable weight they are a slick set of hoops on a £1500 bike. They ran tight and true thorough the test. They were also stiff when cornering and putting the power down.
Grips are a personal thing but the Ergons worked well for us and gave plenty of grip and comfort.
The Continental Mountain King II Tyres were surprisingly good all condition treads. They rolled well, cleared easily and were predictable in the corners.
After an initial bleed the Avid 3 brakes performed well. Modulation and power was good but we did suffer from a lot of brake squeal until we fitted some aftermarket pads. The rotors are large for a 150mm bike and helped with the power the Avids produce but added a litle bit of weight.
The X-12 142 thru-axle added even more stiffess to the back end and made wheel placement easy
When we took the Canyon Nerve apart we found it to be well prepared. Ie Loctited or greased as appropriate.
The Nerve's 720mm bars were a bit narrow. 740mm or wider would have been better.
The Shimano Deore cranks lost thier paint very quickly. Also there is no need for 175mm length cranks on a medium. 170mm would have been a better choice.
The Canyon Nerve came with a Triple chainset which we don't think is needed these days. A bash ring instead of the outer ring would have been preffered. This would also have allowed for a medium cage mech to be used.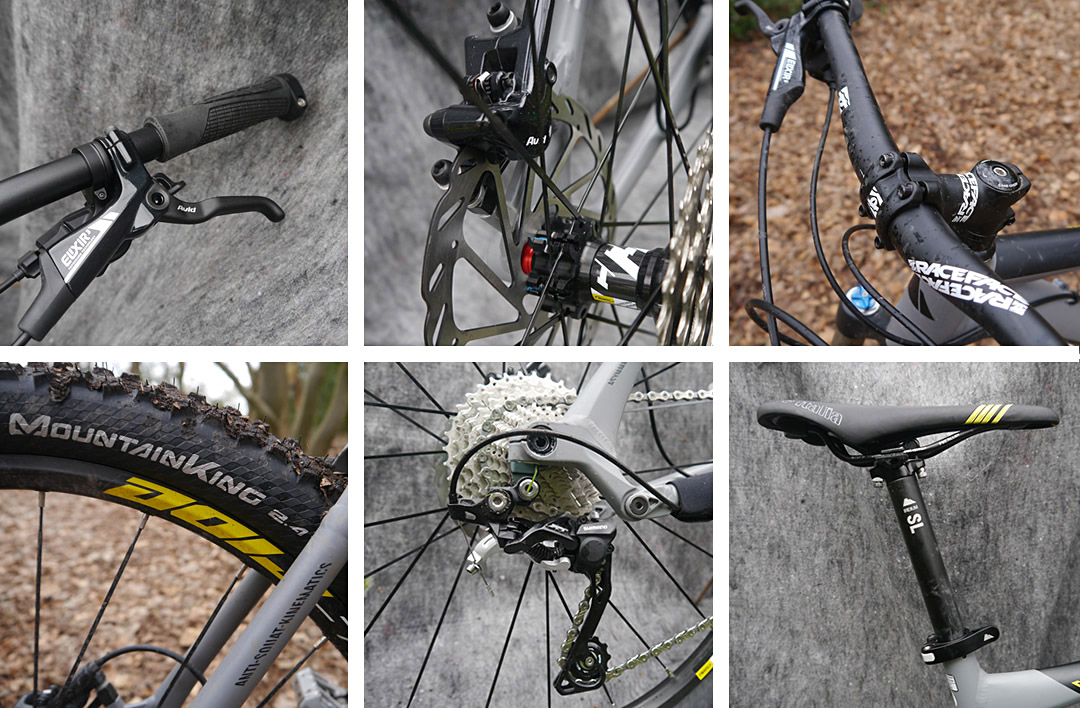 The Nerve's 720mm bars were a bit narrow. 740mm or wider would have been better.
Ride
The Nerve's burly build and stiff Mavic wheelset, meant it felt taught and eager, as soon as you stomped on the pedals. Power is efficiently transferred via the wheels and when pumping through the frame.
The low BB and neutral handling meant cornering was confident and predictable.
Climbing, even in the trail mode was bob free and comfortable. The suspension still remained supple taking the edge of energy robbing roots and rocks.
When pointing downhill, the neutral frame and stiff wheels carried speed and instilled confidence. It allowed us to rumble through rough sections of trail with confidence.
The 4 bar design kept brake induced suspension stiffness to a minimum, and helped maintain traction when climbing.
The AL+ 6.0 was balanced and neutral. Manuals and side to side un-weighting gave predictable responses. This allowed for confident last minute adjustments in positioning and pressure, to maintain grip.
A bit more stand over might have allowed us to lean the bike more.
Wider bars would have added more control in high speed situations.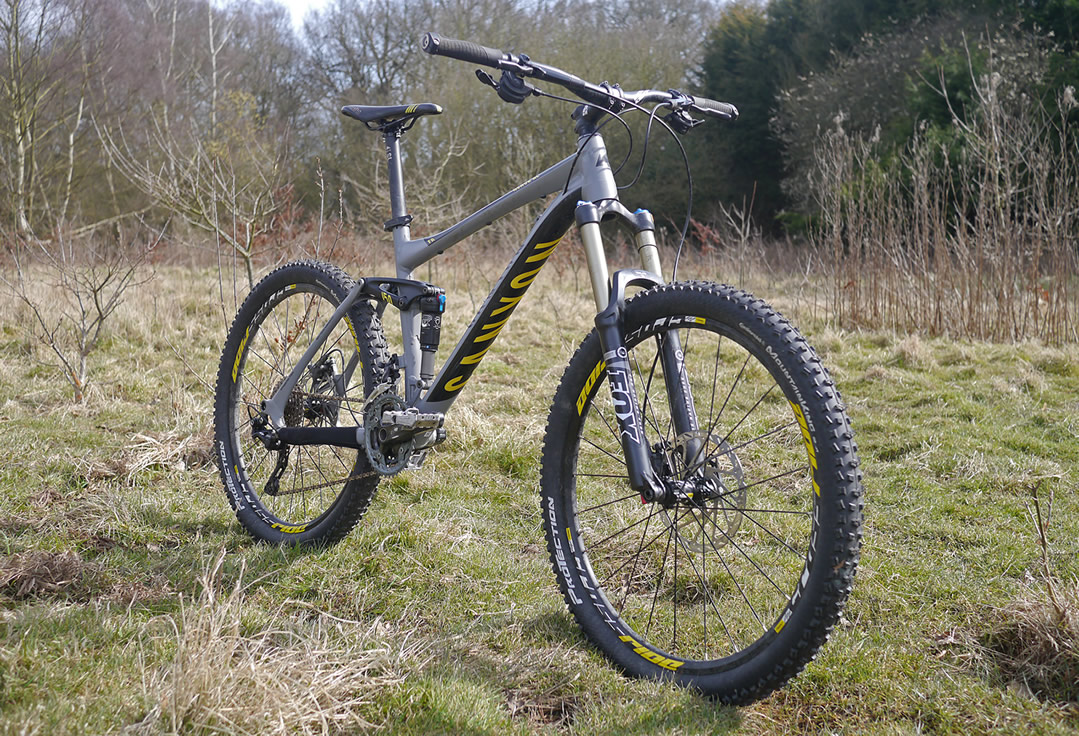 Manuals and side to side unweighting gave predictable responses.
Test Info
Tested when - Winter Spring - horrible conditions throughout.
Tested where - local trails and trail centers. Clay, slate and sand singletrack.
Care level - Goodish. Washed and chain lubed after each muddy ride. 1 strip down during the test.
Tester height & weight - 173cm 75kg.
Tester riding style - Fairly aggressive on the trail. More DH than XC.
Final Thoughts
The Canyon Nerve is a solid, well specced bike. The frame shows a great eye for detail and is sensibly future proofed with its tapered head tube x12 rear axle and dropper friendly cable routing. Add to this modern trail geometry and a stiff frame and your given a great platform to build on. The spec is full of proven kit from top line manufactures like Mavic Fox and Race Face. You won't need to start upgrading for a while. We would happily take one of these bikes for a week's riding in the Alps, and that is a massive compliment to pay any bike in this price range.
More stand over and wider bars would be the main changes we would like to see on the Nerve. As mentioned the Fox CTD tune could have been firmer, but that is a Fox issue affecting all their products in 2013, for which they are offering an upgrade.
Considering that the Canyon Nerve AL+ 6.0 costs just over £1500, then it's hard to find fault. Of course you have to be happy with the buying your bike direct, but Canyon are investing more in UK based support. We have so far had a good experience, in dealing with them here in the UK.
Find out more about the
Canyon Nerve AL+ 6.0 here
.