Easy Washer Pressure Washer Review
Reviewed by:
Essex Herts MTB
-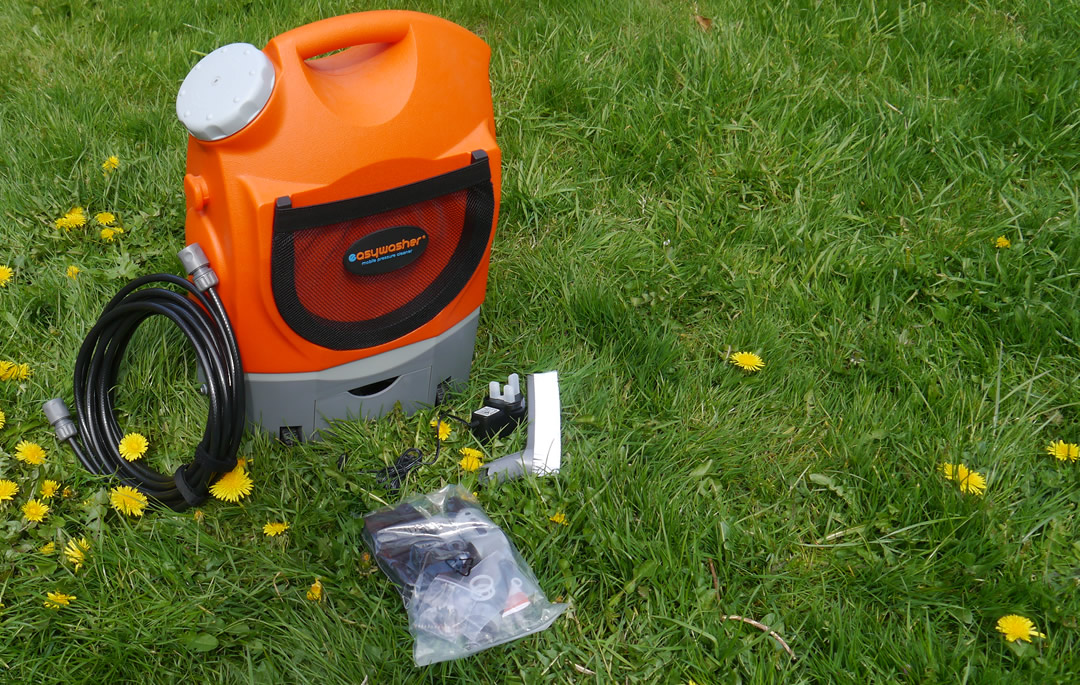 We review the Easy Washer Ex-1028 mobile pressure washer. After a winter of epic mud, we see how this mobile washer coped with cleaning bike after bike on the road.
Easy Washer Ex-1028 mobile pressure washer Introduction
The riding conditions here in the UK have been exceptionally muddy for what seems like ever! 8 months of the year involves splattering yourself and your bike, in boggy filth. As such getting your bike clean as soon as possible is key in extending the longevity of your components and keeping the inside of your house, flat and car clean.
The Easy Washer is a fully mobile cleaning unit capable of cleaning multiple bikes without being attached to a power supply. Mobile pressure washers are not new, but the Easy Washer promises on paper, better standard kit and battery life than the competition. With access of up to 9 bar (130psi) of water pressure, it should make short work of the mud as well. We take a look.
Easy Washer Ex-1028 mobile pressure washer specifications
The Easy Washer EX-1028 is equipped with an internal battery, that is chargeable with a 220 volt connection or with a 12 volt cable you can connect to the cigarette lighter in a car.
The removable water-tank has the capacity to contain 17 litres.
With one full tank you can spray water continuously for around 12 minutes.
A charged internal battery will give you enough power to use 3 to 4 full tanks of water.
The Easy Washer EX-1028 includes a shower-head and brush.
The Easy Washer EX-1028 is equipped with a water-hose 6 meters in length.
You can adjust the water pressure of the multifunctional spray gun between 3 to 9 bar.
The nozzle of the Easy Washer spray gun is adjustable from a strong jet to a soft mist.
The Easy Washer mobile pressure cleaner can be filled with cold and warm water (up to 45° Celsius).
Battery charging time: approx. 6 - 8 hours.
The EX-1028 includes a mesh pocket for storage of its accessories.
Total weight: approx. 7.8 kg - not including water.
Easy Washer Dimensions: approx. H 50 cm/W 33 cm/ D 23 cm.
Retail price is c. €159.95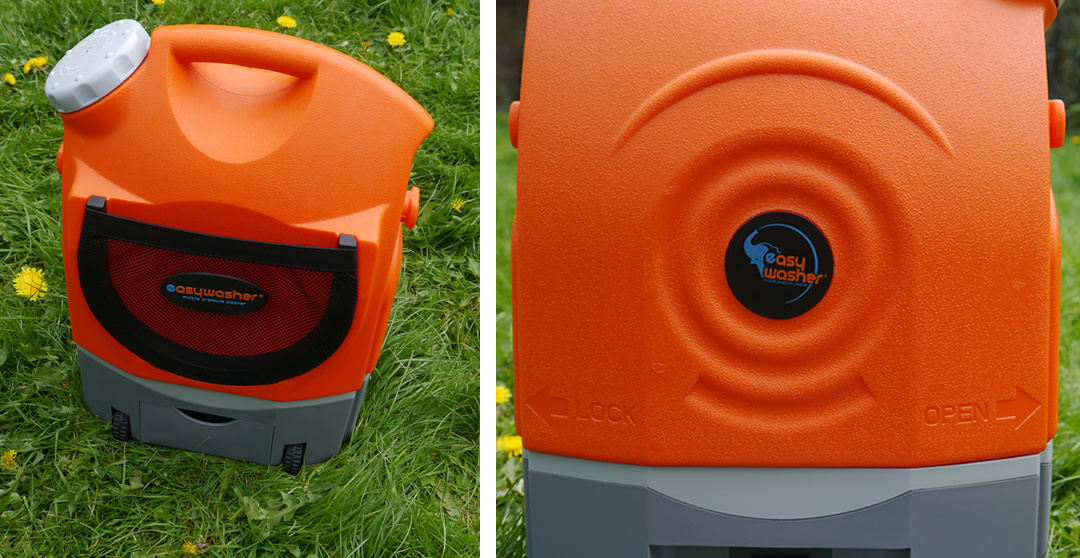 "Its a good looking bit of kit in the currently fashionable enduro orange colour-way"
Easy Washer Ex-1028 mobile pressure washer design and ease of use
The Easy Washer EX-1028 is a good looking bit of kit in the currently fashionable "enduro" orange colour-way. The plastic is thick and durable and robust enough to be chucked in the back of a van for days on end.
The handle and the overall shape, make for an ergonomic unit. 17kg of water plus the unit weighs in at nearly 25 kg so it's important that it's easy to manoeuvre.
We found that way that the water tank detaches from the base is strait forward. You do have to hold the base between your legs, but a quick twist and the reservoir comes free.
The angle neck of the Easy Washer tank makes it easy to fill. Some way of viewing the water level from the outside would be useful.
The cap is secure and easy to do up / undo. It does have a vent to stop pressure building up but this means you can't rest the unit on its side without a bit of dribbling.
The charging port is a fairly standard style and the charger is easy to attach. The only concern is that it isn't covered so could long term suffer from some water ingress. It didn't cause an issue during our test however.
The hose is very long which is great. Having the option to trim it to length it is good to see. It has a durable outer that didn't suffer any kinking or damage despite being dragged around car parks and stood on and run over by bikes. The Easy Washer comes with some neat velcro ties, making winding it back up for storage a little easier.
Power is not a problem. The water jet is more than enough to get shift most mud. We always prep our bikes pre wash with Wizard Wash or Muc-off which does help. In practice it had about 50% of the pressure of my very high pressure garden hose. That is fairly impressive for a mobile unit. If you let the mud harden you will need the brush attachment to shift the most stubborn bits.
The multifunctional spray gun is very comfortable in the hand. We had no problem manipulating the nozzle to alter the spray from tight jet to wafty mist. You can adjust pressure up to 9 bar which is 130psi. At 130psi the jet is a bit too focussed, but wind it back a bit and you get more coverage at a very usable pressure. You can hit your buddies from about 10 meters with it if you want a slap!
We found the battery charging time accurate. We would generally charge it up the night before a ride.
We never had any issues with the battery running out even after using 4 full tanks. An indication on the unit of the available charge remaining, would be a useful addition.
We found that you could budget for about 10-12 mins of bike washing with the EX-1028. That's enough to time to give 1 bike a really thorough clean or to get the worst off of 2 bikes. If it's going to be a really mucky day, I take an additional 10 litre jerry can, so there is enough for other people.
The switch to operate the unit does have a durable waterproof cover. However its placement and size make it tricky to operate while wearing gloves. A larger button would have made it easier to flick between settings.
The mesh pocket is small. Getting the hose in there is a bit of a struggle, and the mesh feels overly tight. A stretchier pocket would be a better design.
The wheels on the bottom of the chassis, are on paper, a good idea. However it's very rare that we could wheel it about. Most MTB parking spots are not paved. The handle on the top of the unit is just too low to make this comfortable anyway. The wheels had the side effect of giving the unit the tendency to slide and roll. Replacing the wheels with a malleable grippy base would be a better option.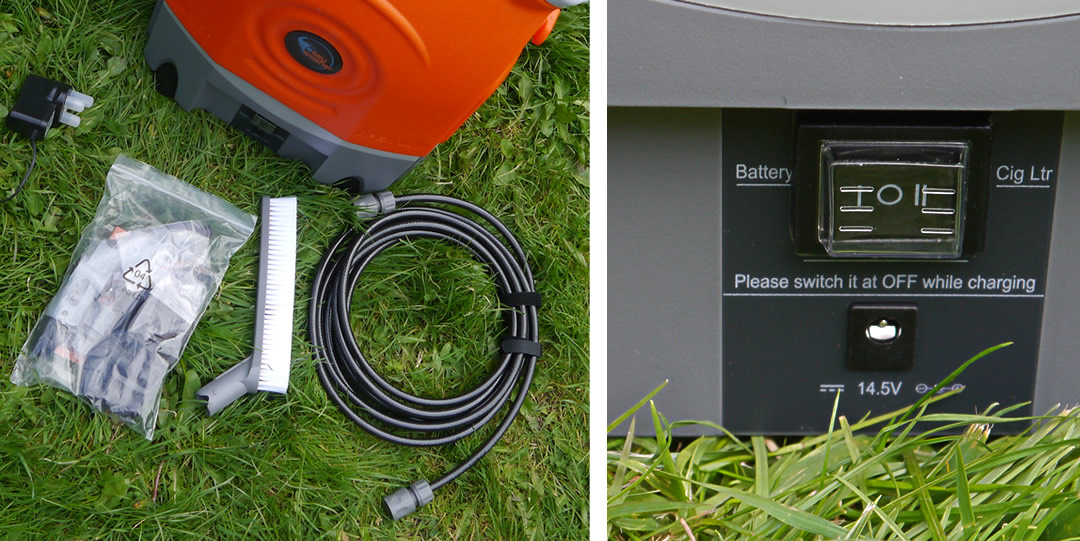 "A good range of accessories and the longest hose in the business!"
Easy Washer Ex-1028 Test Info
Tested – Summer / Autumn / Winter 2014
Mud Type - Road salt + Grit, Clay and Sand, Welsh Slate
Care level - None - chucked in and out of cars and vans
Similar products used – Dirtworker, Mobi V15
Easy Washer Ex-1028 mobile pressure washer - Final Thoughts
Over winter the the Easy Washer EX-1028 hasn't missed beat. Its ticks the main boxes of good water capacity, battery life, easy manoeuvrability and hose pressure. Water jet power is the same whether plugged in or running off the car. It is good enough to shift debris from the bike just after a ride but you do need the brush attachment if you let the mud harden. Use some Muc-off or wizard wash on the bike first though. It really does help.
I'm not sure you really need more from a mobile cleaner. Its a good price, its mobile, has great capacity and power. The only negative is that once your mates see it they will want to use it, so you might need to take additional water!
Find out more about the
Easy Washer here
.