RRP EnduroGuard Review
Reviewed by:
Essex Herts MTB
-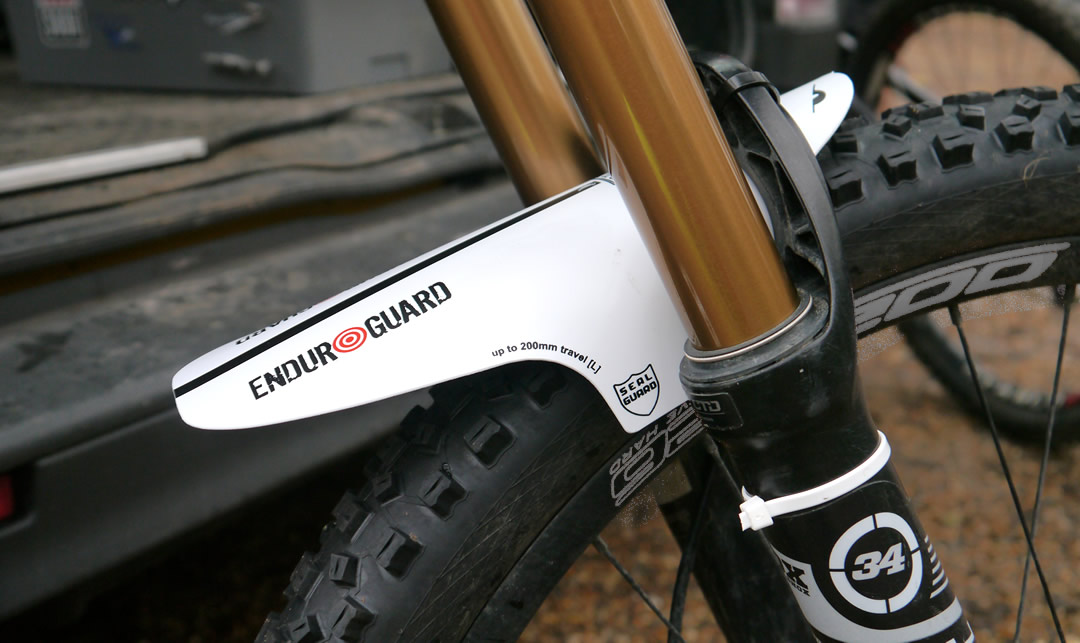 We review the RRP EnduroGuard Mud Guard. With months of boggy riding ahead of us we see if RRP's latest offering keeps the crud at bay.
RRP EnduroGuard Introduction
RRP are not new to the mud guard scene. I've had a few of their NeoGuards on various bikes over the years, and they have worked well. However being a bit of a bike 'tart' ive always thought that there must be a more streamlined solution to stopping goo getting whipped up into your face. The EnduroGuard is RRP's take on a design that has been done by others, but they have added a few tweaks of their own. We take a look at whether it offers anything new.
2 Sizes: For Forks 80mm to 120mm travel & forks 130mm to 200mm travel.
Designed as a front or rear mudguard and has been specifically adapted to do both jobs.
Seal Guard: This additional bulge has been added and refined to offer additional protection for your seals.
Front mounting: The 'T' shape clamping points are designed to wrap around the fork leg providing a better and neater fit. The wider curve with flat rear end offers maximum protection.
Rear mounting: RRP built in 2 snap-off holes to allow you to rotate the guard forward and attach it to the brace between the rear stays
The EnduroGuard offers 2 tone screen printed graphics.
It uses a custom thickness polypropylene.
All sizes and colours will come with custom bright white zip ties made to a custom length.
Designed, manufactured, and packed in the United Kingdom.
Colours: Black, White, Green, Red, Magenta, Black/Orange and Black/Blue.
Weight: 23g to 26g.
The RRP EnduroGuard is SRP £8.99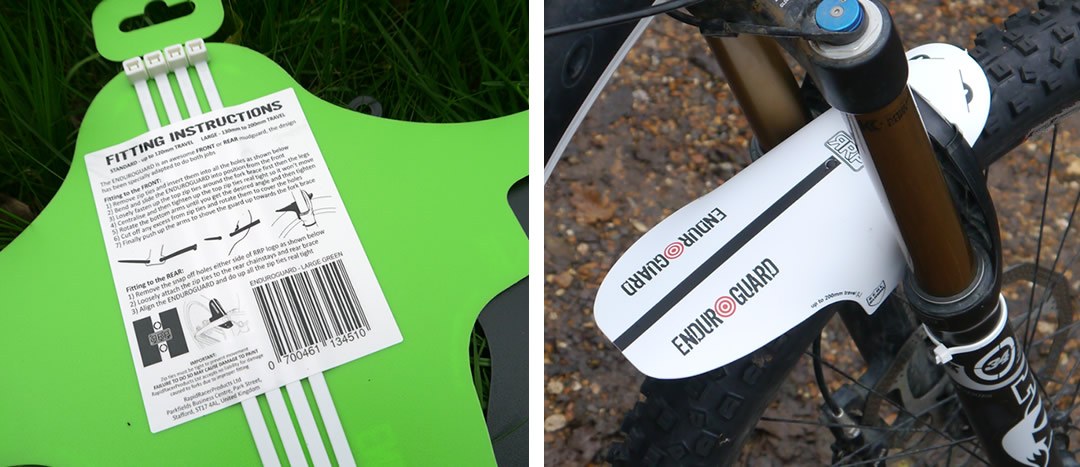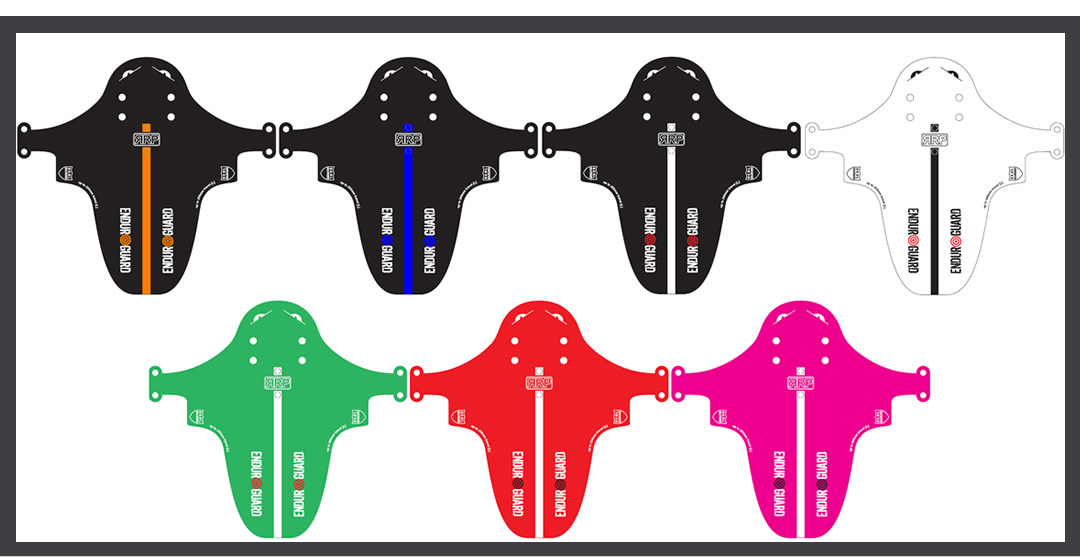 "Designed, manufactured, and packed in the United Kingdom..."
RRP EnduroGuard packaging and fitting
RRP's Packaging is minimal. Zip ties are stuck to the guard with the instructions. We hate excess packaging so this is a good thing.
The polypropylene does feel thicker than other guards of this type. But not so thick that it can't be bent into the fork arch. The EnduroGuard has been finished well. The edges are smooth with no burring, and the flex through the guard is uniform.
Fitting the RRP EnduroGuard is straight forward. Follow the instructions and zip tie it on. It's probably easier to fit with the wheel removed but can be done with it in situ.
Having mounting holes to allow you to fit it to the rear is a bonus. Whether this works for you will depend on the style of your frame but most designs with a rear seat stay should allow it to snug in.
The 'T' shape clamping points do work well and minimise the potential for the zip ties rub the fork or frame.
The 2 sizes are a nice option to have. The larger option is noticeably bigger. As long as you have enough clearance you can use either on any size fork.
We appreciate that there has been some effort put into the graphics and the design. It makes it look like an engineered 'product' rather than some of the original versions which looked fairly basic. In the future there is scope for some really fun colour ways for the RRP EnduroGuard. We all like our bikes to look good, so different colours is a big selling point.
The zip ties that come as standard are white. The majority of forks are black, and we would have preferred black. RRP's logic is that you will have black ones already. RRP did tell us that as they didn't use off the shelf zip ties and wanted to keep the packing neat which is why they went with white only.



"The seal guards are a great little feature and offer extra protection."

RRP EnduroGuard in use

Out in the mud the RRP EnduroGuard works well. Water and goop won't get thrown up in your face. Its as good, if not better than the NeoGuard while looking a lot more elegant.
On a night ride with my lights on full power I could see exactly how the EnduroGuard was working. Water was getting thrown out in front of the bike but as such a low angle that it couldnt get anywhere near my upper body or face. The EnduroGuard's bulge at the front and the way that the back of the guard flares out is key in directing the water down and away.
Durability hasn't been an issue. I've had other guards crease and fold but this hasn't happened yet. I think there is a good chance it will in the future if it takes a big whack. It's the nature of this type of plastic, but so far so good. A fully rigid guard is the only way to guarantee this to not happen.
The RRP EnduroGuard graphics and colours have lasted well and have not faded.
The seal guards are a great little feature and offer extra protection.
The EnduroGuard's sub 25g weight means that it doesn't add any real additional heft to the bike. The guard has a smooth surface which sheds mud well. The slippery finish means it's easy to clean at the end of a ride.
The RRP EnduroGuard when mounted to the fork, is tucked out of the way and doesn't appear to offer any real impact to your aero. On the rear it will depend on your frame shape.

The logoed side of the EnduroGuard is partial to getting a bit scratched. Some colours like white & green don't show this up at all, but with other's like black it's a bit more noticeable.




"An additional bulge at the front is key in directing the water down and away."

RRP EnduroGuard Test Info

Size tested – Small & large.
Tested – Winter 2014 for 1 month so far.
Riding – Trail riding, trail centres and quick local rides.
Where – Surrey Hills, Woburn, Welsh Trail Centres, Epping.
Care level - Good. Washed and cleaned after every ride.




RRP EnduroGuard - Final Thoughts

Its worth reiterating that the RRP EnduroGuard does its primary job of keeping goo out of your face very well. There is almost a complete lack of "mud in your eye moments" once this has been fitted. To add to that it has a few noteable features. It comes in a variety of colours, has nice graphics, appears well engineered, has the added bonus of the seal guard, and can be fitted front and rear. That is a lot of plus points for something that costs £8.99. At that price point it is as cheap, if not cheaper than other options. Season long durability hasn't been put to the test yet but I'm optimistic that this will last all winter. It looks pretty good as well, so it might just stay on for summer!

Find out more about the

RRP EnduroGuard here

.