Fox Demo Downhill Shorts Review
Reviewed by:
Essex Herts MTB
-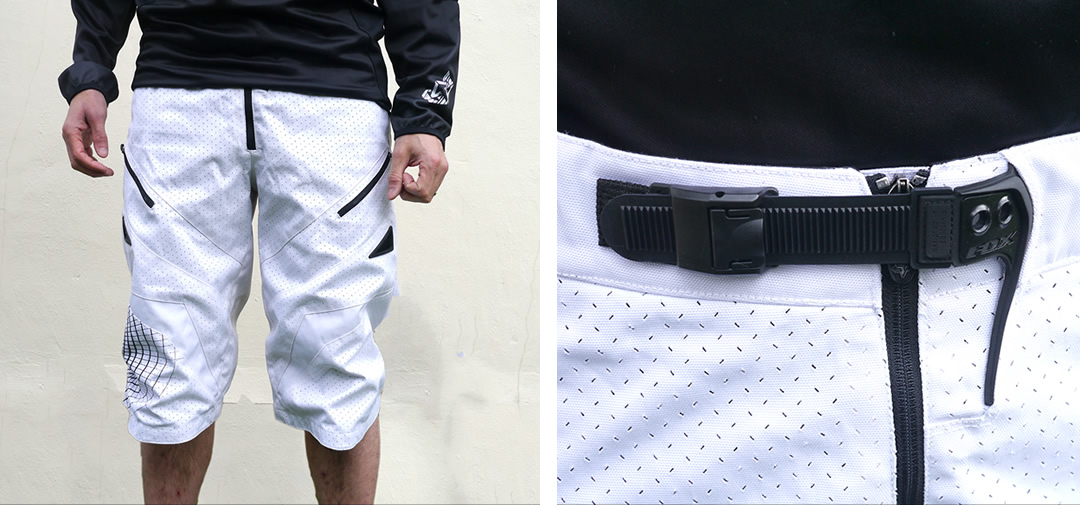 We take a look at the Demo Downhill Shorts from Fox
Fox Demo Downhill Shorts Introduction
When I'm riding DH or free ride trails it's really important that I don't have anything else to worry about apart from what's coming up on the trail ahead. So, having kit that works and doesn't give me any reason to think about it is pretty important to me. In terms of riding shorts for DH and free ride this means I'm looking for the following:
A good comfortable fit and don't have any annoying tendencies whilst riding or pedalling (e.g. builders arse or rising up and over knee pads).
Zips ands buckles that keep on working as intended.
Built to take the knocks (crashes and general wear and tear) and keep coming back for more (i.e. still look good after multiple washing cycles).

Hopefully a fairly easy set of requirements right? You'd think so, but I've experienced too many riding shorts that fundamentally miss the mark on some or all of the criteria above. Let's see how the Fox Demo DH shorts shape up as Essex Herts MTB put them through a long term test.



"The shorts finish just below the knee on me even with knee pads on– just the length I like"

Fox Demo Downhill Shorts Specs

The Fox Demo DH shorts have a relaxed fit and are aimed at DH through to all-mountain riders
They are made using a heavy weight ballistic fabric (I don't think they are bullet proof however)
They have a laser perforated outer shell which helps ensure maximum ventilation and airflow with some nice subtle graphics
The shorts also have small triangular front mesh panels to aid with heat management
Side Waist Adjusters allow you to dial in the fit
The rear stretch panel and MX Style Fly-Cam ratchet closure help ensure the perfect fit
Active bottom hem ensures proper coverage over the knees and pedalling performance
There are two zipped leg pocket one of which has a built-in detachable glasses / goggle wipe (left leg pocket)
There's also an audio Interface for use with a MP3 Player and headphones (right leg pocket)
Sizes available: Waist 32, 34, 36, 38
Colours available: multiple depending on which year you go for
Full product details are here.
There's a good overview video here:
Retail price is c. £74.99 (but shop around as there seem to be plenty of great bargains to be had on these shorts, especially the previous year's model)




"The zips and zip closure ratchets all work well and are easy to use with gloves on."

Design and setup

There are a few different colours available for these shorts, I went for plain black and plain white but there are leerier options available for them that like that sort of things.
Fox have been making action sport clothing for a while so have a good idea of what they're doing. This came across straight away as soon as I unpacked the shorts and tried them on for the first time – the build and feel is spot on.
I'm normally a 35" waist so usually size up to large or 36" as I did with these shorts. The ratchet closure and the Velcro side adjusters give you plenty of ability to adjust the sizing precisely which is a useful feature if you sometimes wear padded protective undershorts and sometime don't.
Since setting them up for the first time, I've not had any problems with the Velcro coming undone and needing to re-adjust – Fox clothing exudes good quality and even the Velcro 'just works'.
The shorts finish just below the knee on me even with knee pads on– just the length I like - and even when seated on the bike they feel ultra comfortable.




Usability and durability in the field / longer term ownership

These shorts are brilliant!! Fit on and off the bike is excellent making these shorts super comfortable and definitely 'fit and forget' with or without amour.
Heat management is good – these shorts never seem to get too hot or too cold – I've used them in the snow in the middle of winter at Woburn and in the sun and heat of Pila in the middle of summer.
Build quality is up to Fox's usual standards – I'm running 3 pairs and all 3 are still looking as good as new (except the white ones – see below!) – despite the usual rough and tumble of biking and a care regime that goes no further than chucking them into the washing machine after use.
The zips and zip closure ratchets all work well and are easy to use with gloves on.
The two front pockets are just the right size for a small wallet and car keys and I've not noticed any negative impact on comfort whilst riding with the pockets full.
The detachable goggle wipe is a surprisingly useful feature – it's great being able to give your goggles a quick clean whilst you're sat on an uplift or chair lift - well it is for me, as I like to see where I'm going!

The only downside I've personally experienced is with the white pair which after a tyre-on-arse moment on the super steep Triscombe Fairclough track now have a black (not brown) tyre shaped skid mark that is stubbornly refusing to shift! Hardly the end of the world but a wee bit annoying!
The white pair does look a bit crinkly after a wash.
Full RRP is high but I've never had a problem finding these shorts at significantly less than full price (quick search on Google and bingo)
I've not used the audio routing for the MP3 player but I suspect you'd need a fairly long length of headphone cab le for this to work as the pockets to sit quite low on your thighs.
I've not tried, and to be fair, they are not designed for trail riding but I suspect they would be a too heavy and warm for all day epics.




"The detachable goggle wipe is a surprisingly useful feature"

Test Info

Tested – Throughout 2012 to current.
Size tested – Large (36) in white, black and black 'Rockstar'.
Riding – DH only.
Riding style – historically crash free since 2003; recently, hitting the dirt a lot more and harder (I blame Jon aka Karve); only use these shorts for DH / Freeride stuff.
Bikes Tested with –Trek Session 88; Trek Scratch.
Body Amour Tested with – O'Neal Stealth (soft, SASTEC amour); 661 'Bomber' undershorts; O'Neal Sinner Knee Pads; 661 Kyle Strait Knee Pads.
Similar products tried: Have used DH shorts from Azonic, RaceFace, TLD and Sombrio in the past.




Final Thoughts

As you can probably tell I love these shorts! They do everything I want from a pair of riding shorts (see above!).They are really well made and have lasted really well over the year and a half I've been using them The shorts look and feel good on and off the bike.

All in all - top quality riding kit from one of the big names of the sport that I don't think you can go wrong with but as with all shorts worth trying before buying to make sure that Fox sizing work for you. If it does – these are about as good as it gets particularly if you can pick them up for less than full RRP!

Find out more about the

Fox Demo DH shorts here

.