Magicshine MJ-880U Light Review
Reviewed by:
Essex Herts MTB
-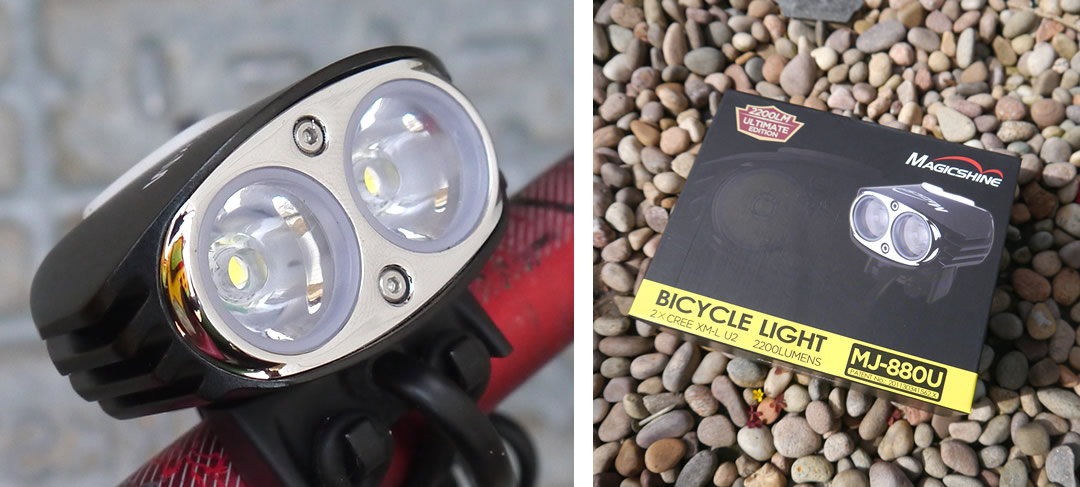 We review the 2200 lumen light from Magicshine. They have taken their award winning light from last year and boosted the power. We see how it fares.
Magicshine MJ-880U Introduction
Magicshine were one of the first to bring affordable lights into the UK. There was a time where you had to spend upwards of £300 to get good quality night lights, but this has changed in the last few years. Magicshine have built a solid reputation in the high power low cost LED market.
We are testing the latest and most highly powered light that Magicshine offer. The £169.94, MJ-880U LED light. This special release Ultimate Edition model boasts 2 Cree XML U2 LEDs, optimised to deliver 2200 forest flooding lumen's. The MJ-880u has been put through the grinder for a couple of months, to see how it copes with what has been a particularly wet and muddy autumn and winter. Here are the specs.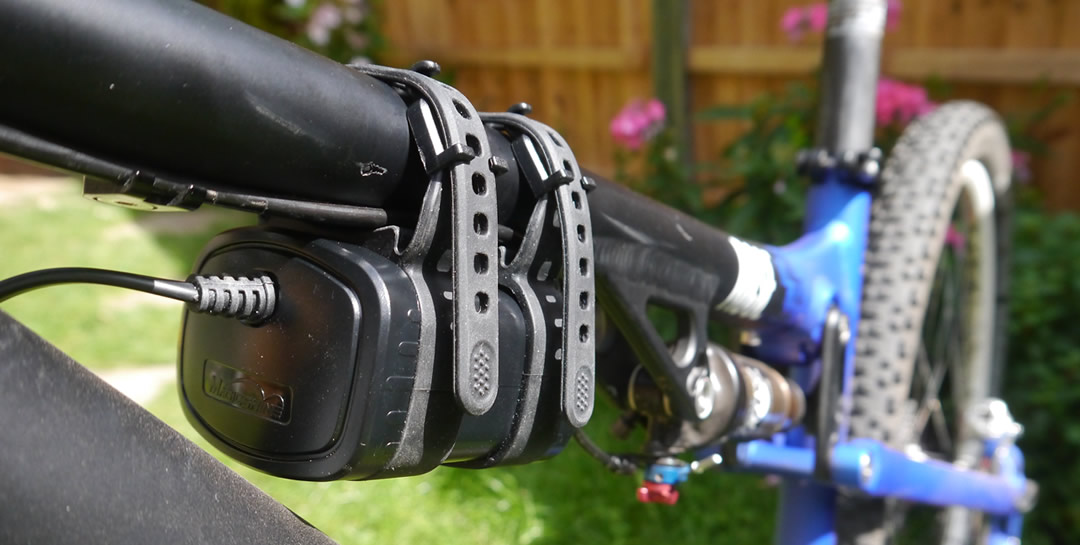 Magicshine MJ-880U Light Specification
MJ-880UE 2200 (theoretical) lumens light head.
Light Source: 2 X Cree XM-L U2 LED.
6061 -T6 Aluminium alloy housing, anodised anti-abrasive finish.
2 top mounted, illuminated, control buttons give control over 5 power settings
The provided battery is 6 cell 18650 lithium 6600ah and charges fully in around 3½ hours with a UK charger.
The battery mounts to the frame with two rubber straps and there is also a Velcro cable tie to keep cabling between the head unit and battery nice and tidy.
There's also a (normal XC style) helmet mount and extension cable included
The light has overheat protection and overcharge protection built in.
Full user manual including sections on mounting, light usage, battery care and tech specs.
Magicshine offer a 12 month warranty.
Price: £169.94 from Magicshine
Full product details are here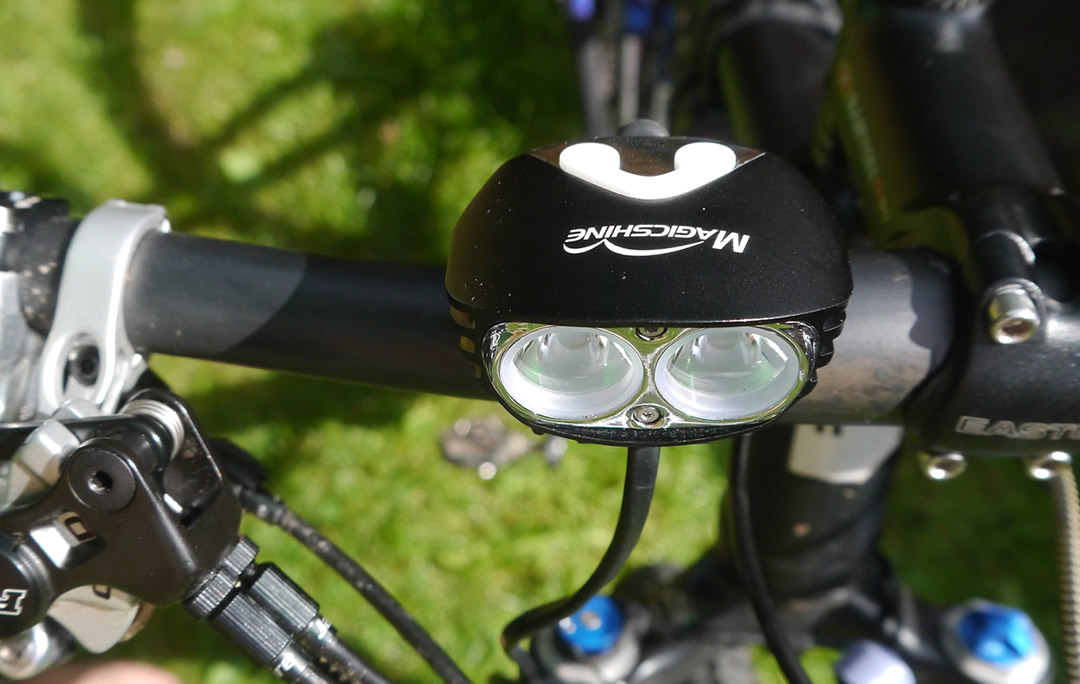 Design & Set-up
Opening the box reveals some nice packaging and a remarkably clear set of instructions (useful for those new to this night riding lark).
The MJ-880UE head unit looks and feels very well made.
It's relatively light so is fine for both bar and helmet mounting.
Charging from new took around 3 hours.
The included helmet mount only works with a normal XC trail type helmet using some Velcro straps (which I trimmed to tidy things up a bit).
Attaching the MJ-880UE head unit to both the bars and the helmet mount with the Y shaped strap is a simple affair and provides a steady position but one which you can still adjust for the perfect angle whilst out on the trail
Similarly the battery attaches really easily (but see below)
The cable connectors feel suitably robust in use but are easy to separate as well (I've had some lights that go together with a clunk but are then difficult to separate – not so here, which is nice)
Magicshine include an extension cable allows you to mount the battery low in the bike frame or in a back pack if needed.
The battery, although not heavy, is a bit of a chunky monkey. The best option is to try to mount it low down on the down tube, near the bottom bracket, which is relatively straightforward to do with the included extension cable)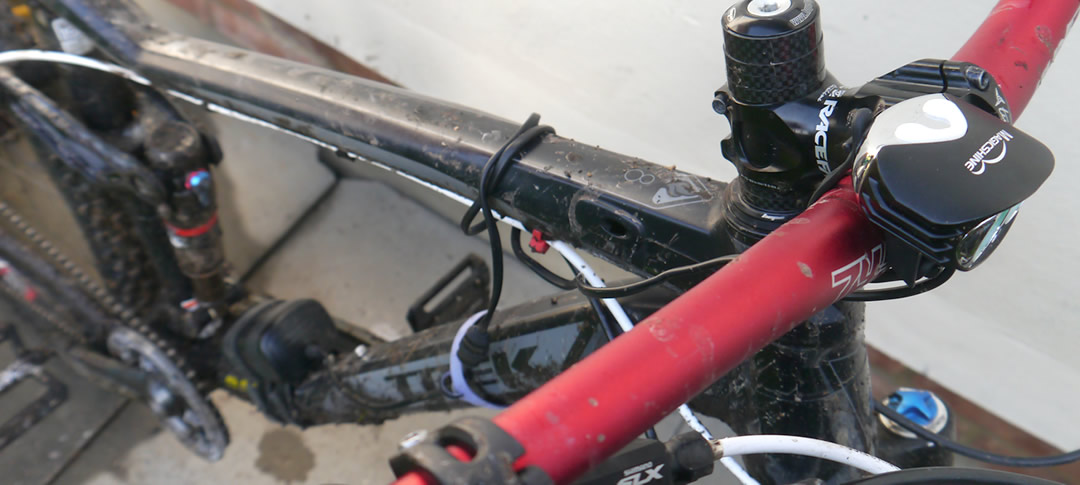 Usability and durability in the field / longer term ownership
The blend of punch and spread from the lens and light output, is great for fast paced woodland singletrack (see beam shots) and has provided significantly more illumination to the trails than other lights I've used. This has resulted in the confidence to hit everything at normal daytime speeds
Battery life has been good – I've easily managed 2 hour rides on full power but with a bit of careful power management you'd be good for 3 hour + epics
Changing light power settings on the Magicshine is really easy with the 2 illuminated top mounted buttons. The 2 button system was a lot easier than the 1 button system a lot of lights employ, where you inevitability cycle past the setting you want. This meant I was more likely to switch power settings on less technical trails to eke out longer run times.
The MJ-880UE Build quality is great and after 4 months of regular use I've not had any problems even after a number of very wet rides.
The included Velcro cable tidy is a nice touch and helps keep everything neat and tidy and less likely to catch passing foliage.
Works equally well as a bar mounted or helmet mounted light (and works really well as a paired combination).
I've not had any problems but know other riders who have had issues on earlier Magicshine lights but these have all been sorted quickly and professionally.
I've found you need to attach the head unit quite tightly to avoid it slipping or moving which does seem to put a bit more strain on the rubber mounting strap than I'd like, but haven't had any problems thus far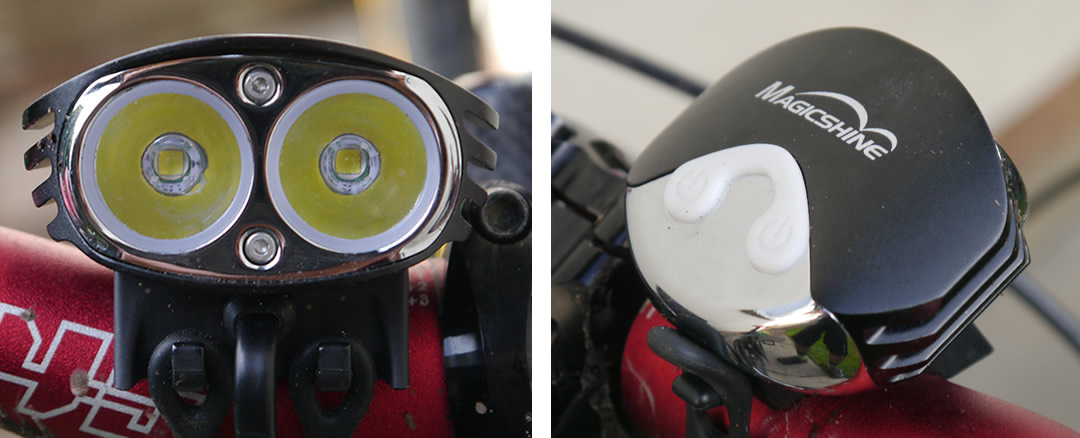 Test Info
Tested – September to December 2013
Riding – Trail riding
Where – Epping
Duration – up to 2 hours
Similar products tried: Niterider, Hope, Exposure, Bikeray, other Magicshine
Magicshine MJ-880U Beamshots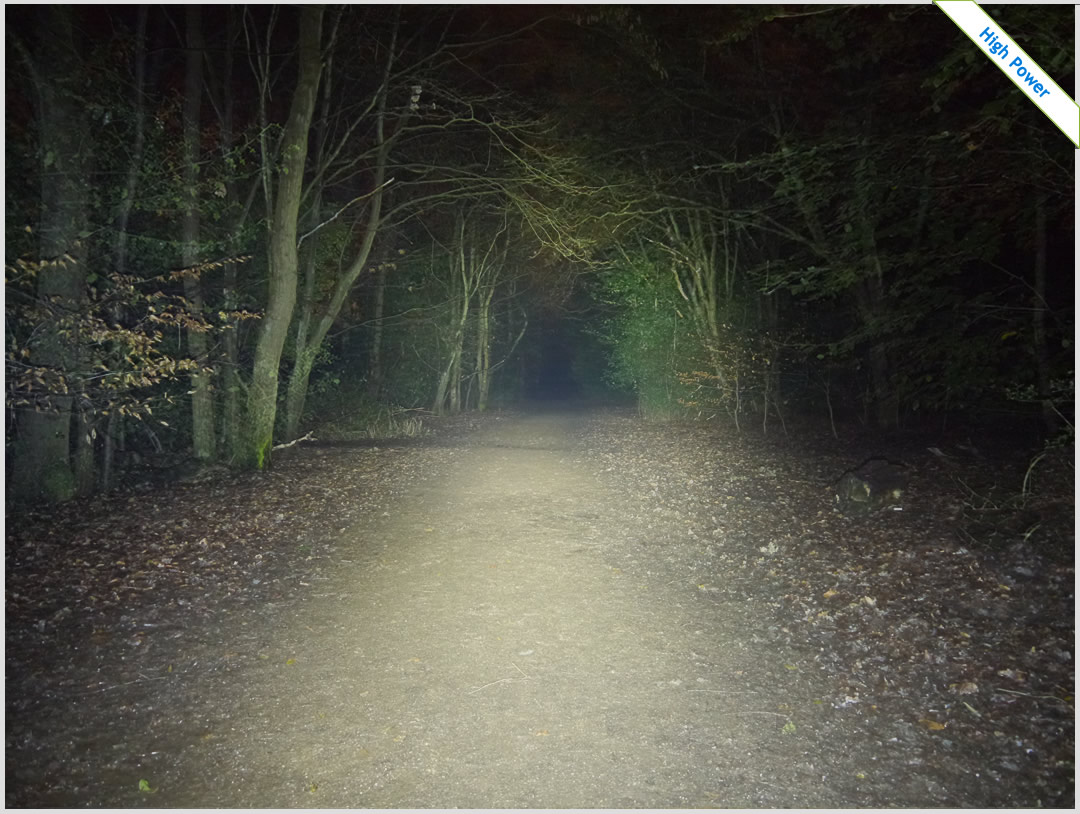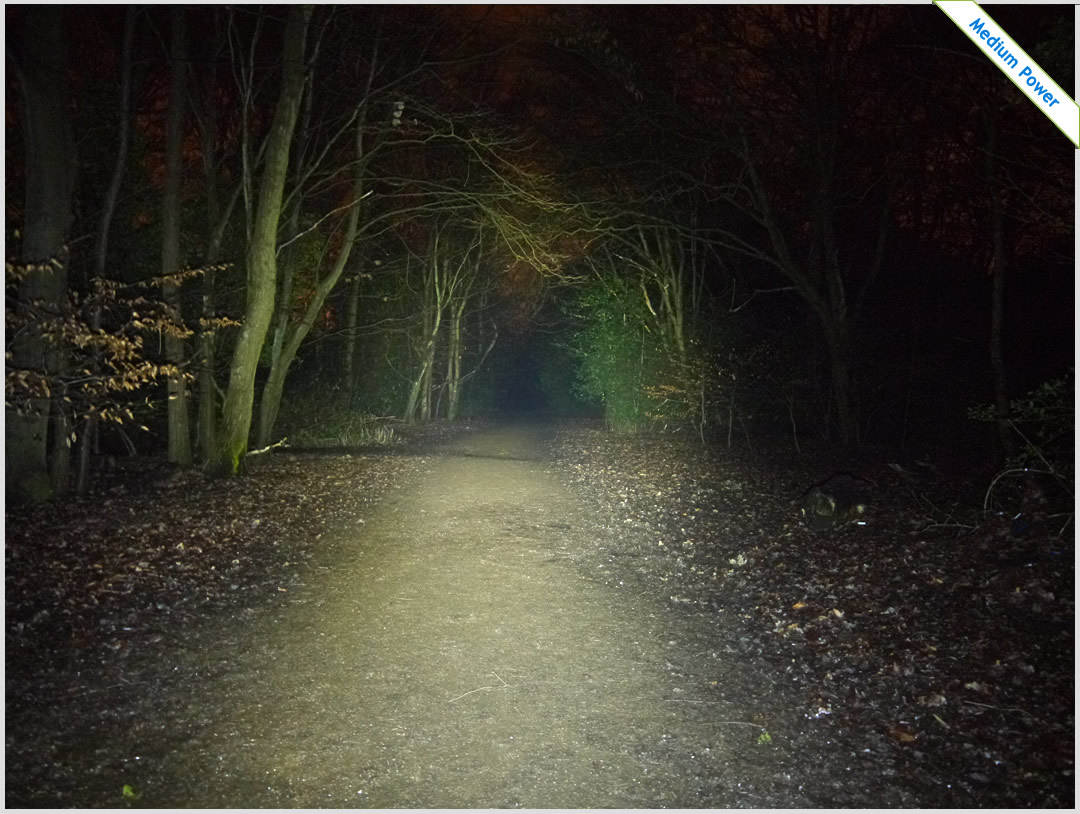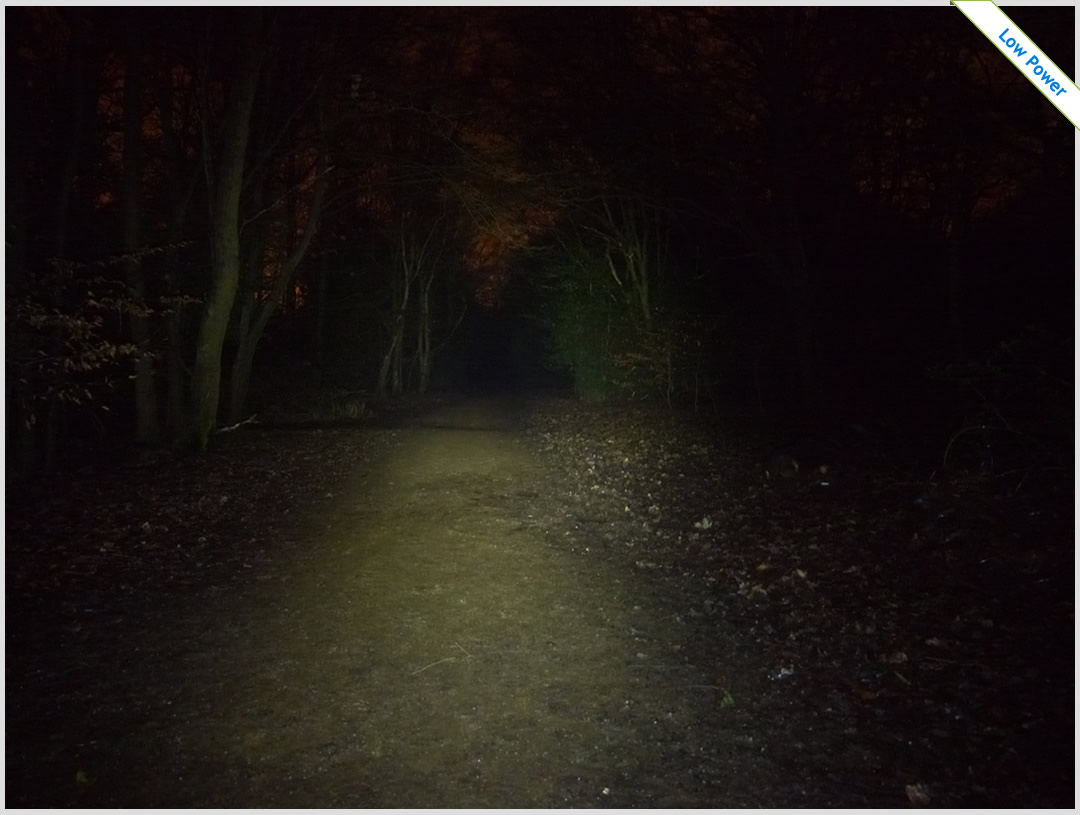 Final Thoughts
The Magicshine MJ-880U takes last years test topping light & adds more power, and tweaks the lens for an enhanced flood and spot mix. The XML-U2s used in the Magicshine MJ-880U are the sweet spot in terms of LED technology right now. The revised battery pack is also a welcome addition, & the run times are as good as ever.
I've been really impressed and happy with this light …so much so that in addition to the one I was testing I spent my own money on a second one to run in my preferred bar and helmet combination. I can't really offer a better endorsement than that!
These are brilliant lights that more than compete with other models costing considerably more. Its easy to see why these do well in the big mag tests.
Find out more about the
Magicshine MJ-880U 2200 Lumen's Light click here
.