Met Parabellum Review
Reviewed by:
Essex Herts MTB
-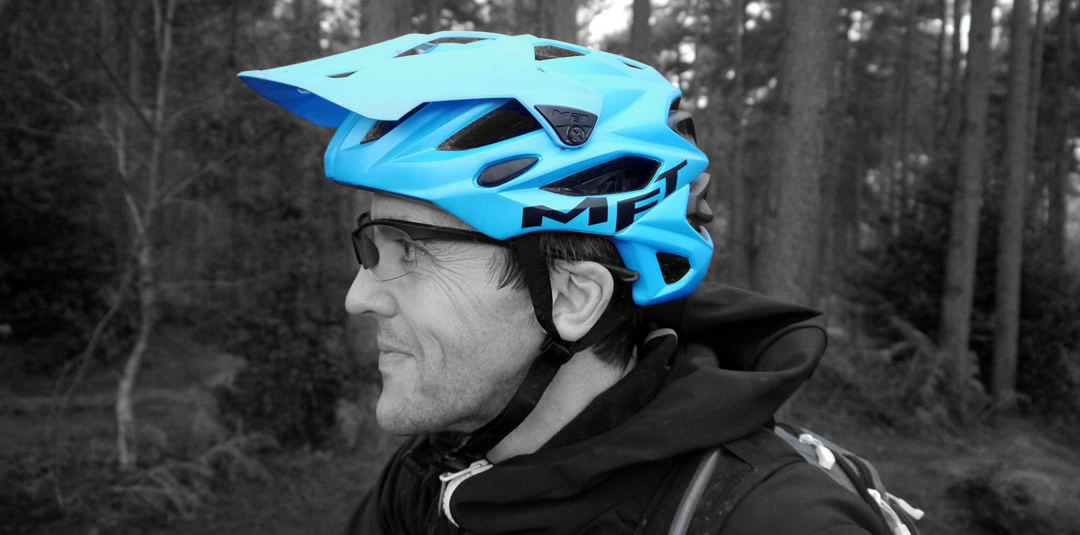 We review the MET Parabellum. MET's new Enduro lid.
MET Parabellum Introduction
MET are one of Europe's biggest helmet manufactures and have a massive range covering all disciplines and all riders. I've been testing their Parabellum, which is aimed squarely at the booming enduro market (or mountain 2.0 / or free ride light / pick your own marketing phrase!). It promises to offer decent coverage and protection with light weight, good ventilation and all day comfort. Is this the ultimate enduro helmet? Tested over 10 months both on and off road; at home and abroad; and in all weather conditions we find out.
MET Parabellum Specs
In mould intelligence mould fusion construction.
HES Construction. The homothetic Embedded Skeleton spreads the pressure built up by compression at the impact point, and then dissipates the force of impact over the whole shell.
Adjustable visor. The highest position allows enough space for goggle straps.
Removable kit for camera mount (MOPOV).
Safe-T Smart retention system. There is a dial at the back of the helmet offers one hand adjustment; also includes vertical adjustment.
Air Lite straps aid sweat evaporation and offer more strength for less weight.
Gel 02 anti-allergenic front pad. Ddesigned to aid comfort and provide freshness; originating in medical industry; CoolmaxTM anti-allergenic interior pads; all removable for washing.
Sizes and weights: M (54-58cm), 270g; L (59-62cm); 300g.
Colours: Matte White – Grey; Matt Black – White; Matt Mud – Gloss Lime; Matt Cyan – Black; Matt Black – Glossy Red.
Full product details are here: here
Retail price is c. £129.99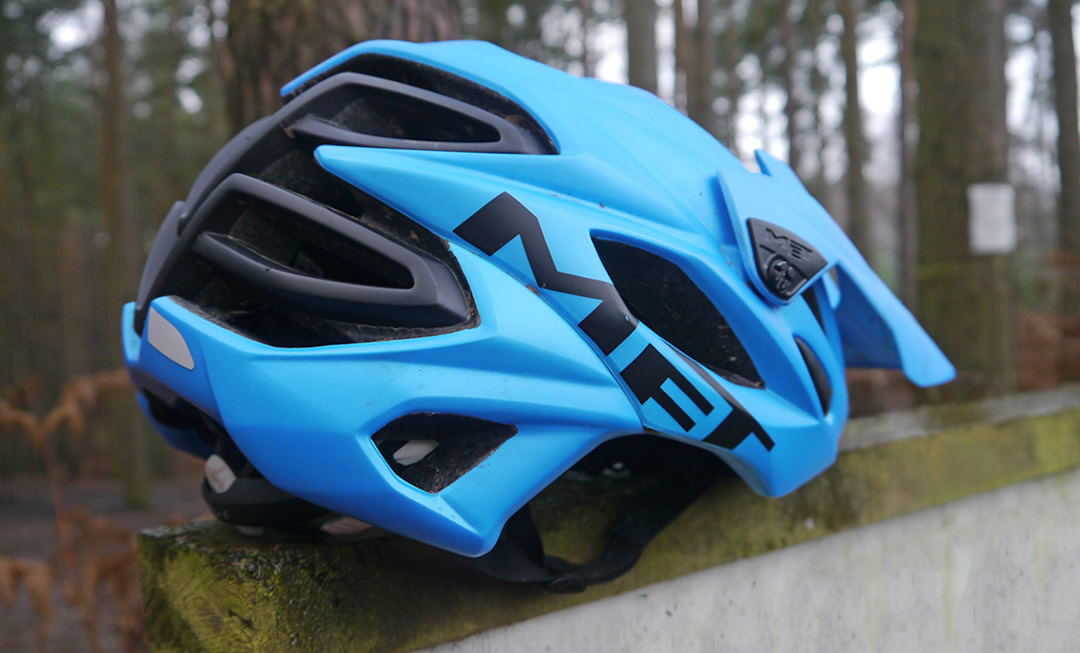 "Air Lite straps aid sweat evaporation and offer more strength for less weight."
MET Design & Features
Super light weight at just over the advertised weight of 300g!
Easily and quickly adjusted to fit your noggin.
Good rear coverage offering lots of protection for the rear of your head.
Long visor that can be adjusted out of your view.
The Removable kit for camera mount is a usefull inclusion.
Venting visibility & comfort
Setting up the MET Parabellum was really easy – try it on; tighten it up; check the vertical height feels comfortable; check the strap length is ok; and you're good to go. The only other adjustment I made was to tilt the (unusually long) peak upward a few degrees to improve my POV – something that does require a coin or screw driver to accomplish.
There is lots of venting so worked really well at preventing you over heating even in the high thirties in Greece over the summer.
The visor has a decent range of adjustability.
The front gel pad is comfortable, and does seem to help stop sweat making its way down from your head onto the front of your face / glasses.
The large size fitted my head well – my head circumference is 61cm.
I've fortunately still not had to test the MET Parabellum's capabilities in a crash situation yet so can't comment on how it copes in that situation!

Comfort was generally good but I did find that some of my riding glasses didn't work quite so well with this helmet and that I'd need to slacken the rear retention strap to get a comfortable fit at the expense of a slightly less stable fit
It only comes in 2 sizes so there will be some people who cant get a good fit. One of our testers who's head head circumference is 59cm fell between the medium and large sizes.

Durability & looks

The quality of the MET Parabellum's paint finish is good and the helmet has coped well with the usual knocks and bumps in use and while in transit. The 100% shell coverage really help in this regard.
It has the feeling of being very well constructed.

As I noted in the 1st look the overall appearance of the Parabellum is a bit of an acquired taste coming half way between a standard XC helmet and a 'playmobil' enduro helmet but with a very long peak.




"The MET Parabellum has coped well with the usual knocks and bumps, in use and while in transit."

Test Info

Type of riding done during testing – Local Essex Herts MTB spots; Sierra Mountains Spain; Greece; Welsh Trail Centres
Tested on – Enduro, Trail and Road Bikes
Tester head size & shape – Large and thick
Tested When – Winter, Spring, Summer, Autumn
Other similar products ridden by tester-Giro Hex, Giro Zen, TLD Ace, Fox Flux.




MET Parabellum - Final Thoughts

'Blimey, that's very light' was my first thought when I first picked up the MET Parabellum. MET have done a great job of keeping the weight down whilst sill offering really good head coverage for protection. The coverage it offers make you think that it will weigh a lot more. It's incredibly light and well vented meaning that all day, big ride, comfort is up there with the best on the market.

Fit is pretty good but I did find that with certain riding glasses I needed to loosen the strap and the rear retainer to make sure it remained comfortable.

Construction is top notch and the helmet looks as good today as when I got it. That said the shape and overall design of the helmet are a bit of an acquired taste but that's very much a subjective assessment and the helmet is very well made.

Overall; a really good choice if you're looking for a strong mix of protection, light weight and good ventilation but it's not the cheapest on the market.

Find out more about the

MET Parabellum here

.





"The Met Parabellum is aimed squarely at the booming enduro market"