OneUp Components Sprocket Review
Reviewed by:
Essex Herts MTB
-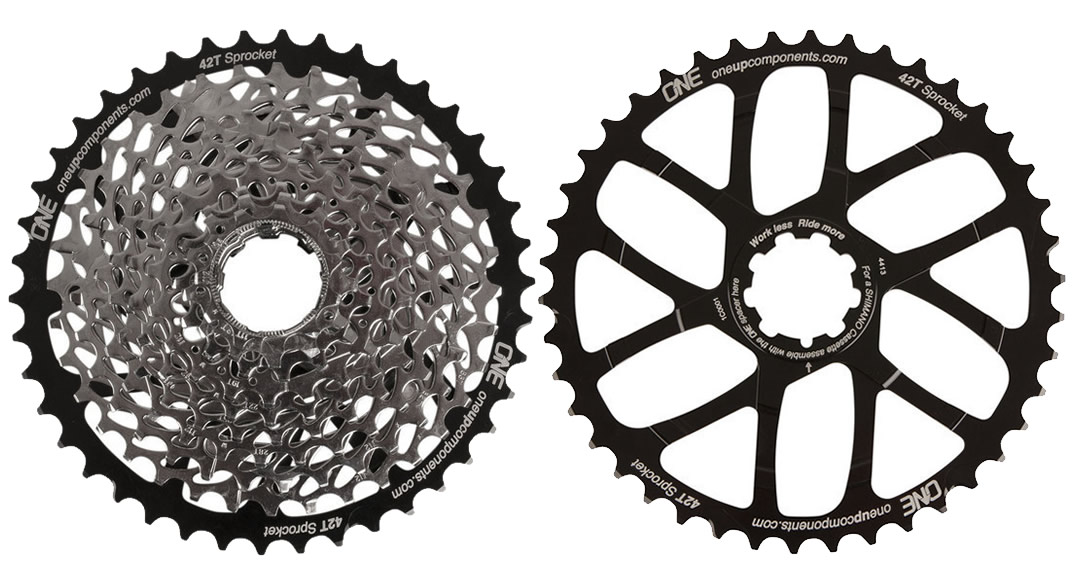 We review the OneUp Components Sprocket. Its designed to turn your existing 10 speed set up into a low range spread so you can use a single ring. We put it to the test.
OneUp Components Sprocket Introduction
Having been using a 1*10 setup for a while I thought I'd give the OneUp Components Sprocket a go. The main reason for me buying it was because I felt that with my old single ring gear range I struggled on the long steep climbs. In these sort of situations, I would previously dropped the to the granny ring. I wanted to keep the low gearing but have the simplicity of the single chain ring. I'm running 1x10 on a 29er, 32T front ring and 11-36 sram X7 cassette.
16T sprocket provides more even cassette progression for smoother cadence and improved shifting - now included for free.
Compatible with most SRAM and Shimano 10spd components.
Compatible with 1x10 and 2x10 drivetrains.
Uses standard freehub driver bodies.
12 upshift points optimized for most 11-36 cassettes.
Uses original 28,32,36T steel sprockets for maximum durability.
10-speeds: (11-13-16-19-21-24-28-32-36-40/42)
Sprocket material: 7075-T6 (40/42), Chrome plated hardened steel, (16T)
Sprocket weight: 18g (16T), 70g (40T), 71g (42T)
OneUp adapted cassette weight increase: 51g
Typical 3x to 1x system weight decrease: 367g
Cassette range improvement: 11% (40T) 17% (42T)

"Compatible with most SRAM and Shimano 10spd components."
OneUp Components Sprocket First Impressions
First impressions of the OneUp Components Sprocket when it turned up were good, you can easily see why it costs what it cost with a lot of machining done to keep the weight down but strength up.
Installation was a piece of cake, I had left enough links in my chain for the new ring when I had converted the bike to 1x10 so no need to plan around there.
I initially removed the 17th cog to make way for the new big ring.
A quick play be the b tension screw and it was running smooth straight away.
How does the additional 42T cog and the 17T missing cog affect riding
Yes the bigger ring is less smooth in the changing gear (both selecting and disengaging) compared to the rest of the cassette but one you plan the gear changing a little it before you need to its fine (think off it the same way you select the right height on a dropper post before the obstacle). I only tended to use it as a bail out gear than as the main port of call on all climbs, it just allows you to keep renching the bike up the climb rather than get off and walk. Because it is not used all that often I can see myself transferring it over when the rest of the cassette has worn out so it should last for years.
The missing 17T ring is an interesting one, on a normal trail ride I found I never really got down as far as the 15T ring so was unaware of the gap in the cassette. On the urban rides, it was more noticeable. I would spin along on 19T and 15T on the flat (11T on anything with a slight gradient going downhill and eventually run out of gears).
UPDATE - I removed the 15T and changed it for the 16T. The 16T ring does seem to smoothen out the gear changes a lot, beforehand it always felt like you had missed a gear (which you had as the 17T was never there lol). It makes the gear change from 19T to now 16T (or other way round) a lot smoother in the gearing ratio, but the actual gear change still is done as smoothly as before.

"It doesn't seem to have had any negative effects on chain stretch or wear."
OneUp Components Sprocket Durability
OneUp Components Sprocket doesn't seem to wear any quicker than any other cassette I have used. There have been no issues with the teeth 'shark finning' thus far.
It doesn't seem to have had any negative effects on chain stretch or wear.
Worries about putting the rear mech under extra pressure in forcing it to handler the bigger tooth ring have been unfounded.
The colouring does wear off quickly.
OneUp Components Sprocket - Final Thoughts
There have been some pretty cool changes from One Up recently. First off, they are now making 40T rings designed to be able to work with short length rear mechs. More importantly, they are now making and including for the 16T rings to make the gap from taking out the 17T less noticeable! All new orders will include one for free (so it will cost still $100 for 42T and $90 for 40T) Existing buyers can e-mail them and get one sent to them. A few other companies are making big rings but this is the only one to include a second cog to help ease the gearing jump that removing the 17 tooth cog creates.
If I had the money would I go for a 1x11 set up? Yes, the 42T-10T is smoother and more refined. But right now, the cost is far too high for most riders budgets. Would I recommend one up 42T ring - Yes. It's cheaper by a long way, seems very durable and works just as well if you are willing to live with the downsides outlined above.
Find out more about the
OneUp Components Sprocket here
.