Osprey Raptor 10 Hydration Pack Review
Reviewed by:
Essex Herts MTB
-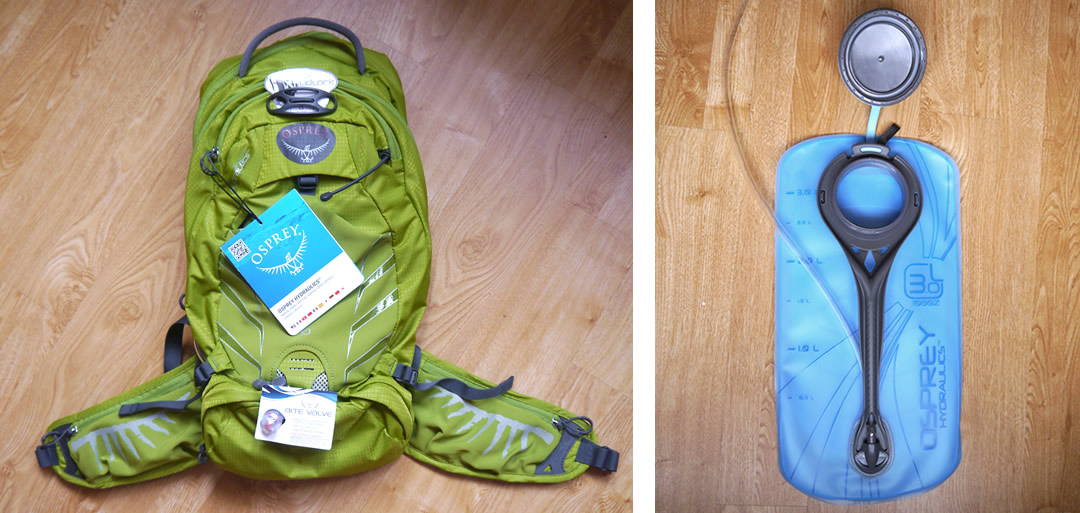 We're testing the Raptor 10 Hydration Pack from Osprey Packs. We see if this unique packs, low profile & innovative features mean the it is the ultimate day pack.
The Specs
A blinker light attachment and reflective graphics are inlcuded for safety in low visibility conditions.
Direct Access Zip makes it easy to load and unload your reservoir for filling or cleaning. One quick zip and the reservoir slides in or out.
ErgoPull™ hipbelt keeps pack stable and transfers load effectively. Strap keepers keep loose straps out of the way.
Large stretch mesh front pocket for quickly stashing extra gear.
New direct zip access hydration sleeve for fast loading and Osprey Hydraulics™ 3 liter reservoir.
Quickly secure a helmet to your Raptor Series pack with the LidLock™.
Lower compression straps stabilize loads.
Wide panel access to main compartment with organizational dividers.
A removable, roll-up tool pouch is included and stores in its own lower zip compartment for quick access.
A zip access pocket with protective embossed fabric fits sunglasses, cell phones or other electronics. A seperate key compartment is included in this pocket.
Colours: Screamin' Green / Madcap Red / Black.
Dimensions: CM: 47 x 22 x 18
Smaller (Raptor 6) and larger (Raptor 10) packs are available.
RRP £74.99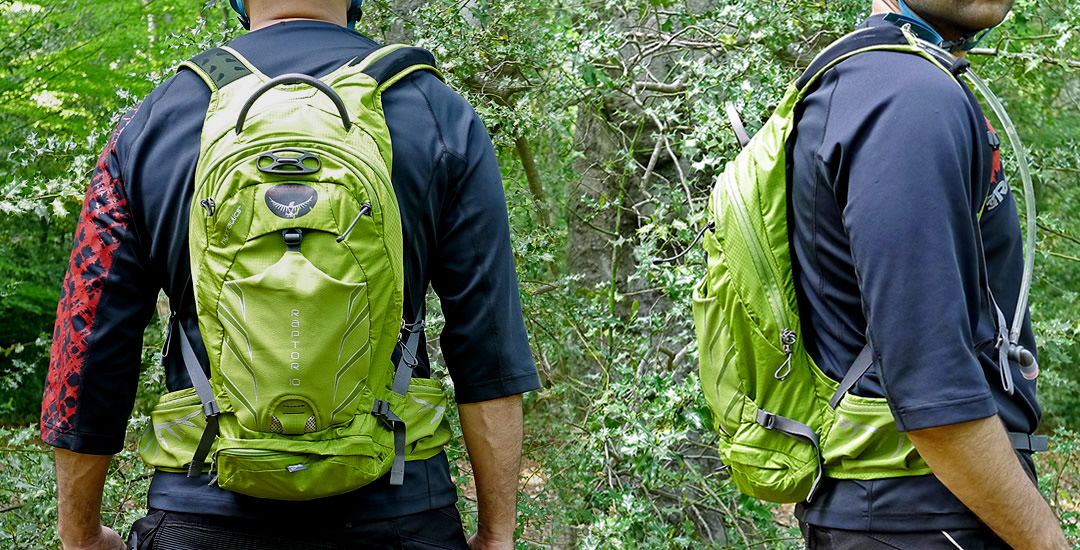 "The drinking valve on the Osprey Raptor 10 is nice and big"
Features and Comfort
The Osprey Raptor 10 is very comfortable when riding. It's one of the few riding packs I've tried which combines back support with flexibility.
When fully loaded the pack distributes the weight evenly through the shoulder harnesses and across the back. There are no pressure points when stationary or when riding hard.
The compression straps neatly pull the pack in, helping to lower the profile of the Raptor 10
I first thought that the magnetic hose clip on the Osprey Raptor 10 was an unnecessary bit of tech. However the magnet is located to the left of your sternum which makes it quicker to access than the traditional location on a strap. This also keeps it out of the way of mud. Finally it's very easy to attach and detach when on the move. Much easier and safer than a clip. It took a while to get used to it, but now I can almost throw it back onto the hose clip with one hand.
The bladder has a spine handle that make removal, filling and insertion a very easy. No more wrestling with a floppy bladder in the sink. The semi-solid shape also results in more consistent fit inside the bladder pocket. This gives even pressure on the bladder and thus more consistent flow.
The Airscape back panel allows good air flow, to keep back sweat to a minimum.
The drinking valve on the Osprey Raptor 10 is nice and big, and is comfortable in the mouth even on bouncy trails.
The easy access pouches on the ErgoPull hipbelt are a great touch. Its allowed me to take bars and snacks out of my short pockets but still get to them easily.
The One-finger zip pulls have a bungee loop so you can open and close them easily. A great feature that I used all the time. Even fat fingers in gloves can get through the loops.
The LidLock feature allows you to carry your helmet on the pack and is typical of the innocation found in theis pack.
If you're the kind of person who has a place for everything and everything has its place, you will love the removable roll-up tool pouch. It gives you lots of little compartments to tuck everything away in. Its located at the base of the Osprey Raptor 10 keeping the weight of the tools as low as possible.
Following the organisational theme, the wide panel access to the main compartment, encourages you to keep everything tidy which saves time on the trail.
The slash pocket gives you an area for delicate items like cell phones, as well as a separate key area.
The blinker light attachment, saved me from attempting a ghetto zip tie solution, for getting my rear light attached to the pack. However as its nothing more than a strap... and depending on how your light attaches , it may not be that secure. Test it out before hitting the trails, is my advice.
The overall styling of the Osprey Raptor 10 is very attractive. There is a nice range of fruity colours, and the stripes and detailing give it the look of a premium product.
The front stretch mesh pocket on the Osprey Raptor 10 is not that big. You can get a lightweight jacket in there but nothing too bulky. If you need that extra space the Osprey Raptor 14 might be a better bet.
The valve is a nice shape, but doesn't let as much water though as other brands. Drinking through it involves more sucking than gushing!
The slash pocket which houses all your valuables almost opens too wide / isn't deep enough. Unless you're a diligent zips closer, which I'm not, there is a small chance you could leave it slightly ajar.
The slash pocket on the Osprey Raptor doesn't have a weather sealed flap covering it like some of its larger cousins. This would be a good addition for peace of mind in the rain.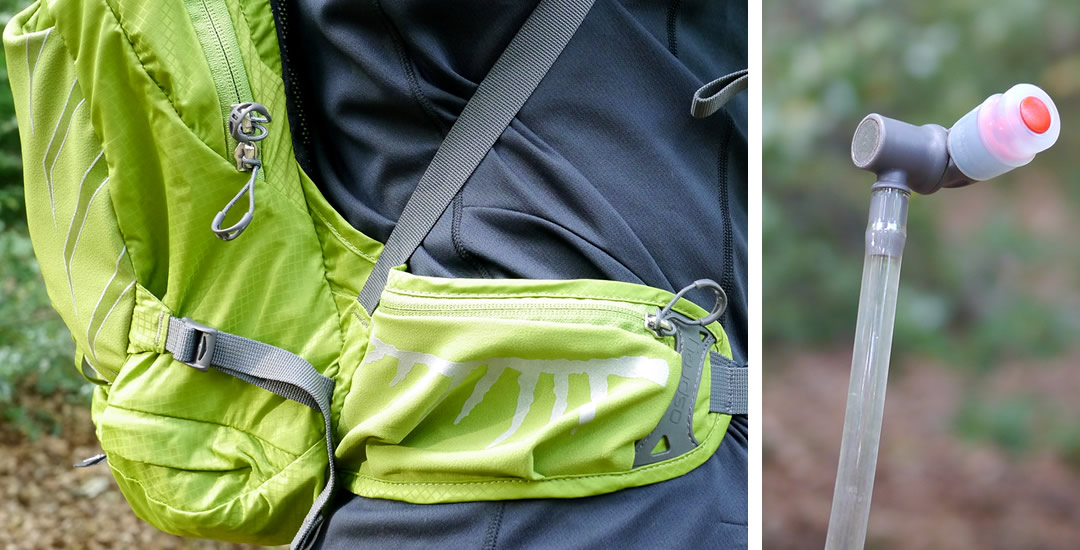 "Following the organisational theme, the wide panel access to the main compartment, encourages you to keep everything tidy which saves time on the trail."
Durability
The Osprey Raptor 10 pack cleans up well. Get a hose on it and most of the muck comes off. A gentle wash and it's as good as new
The hydration hose is transparent, meaning that you can see when it needs a clean. It's also nice and wide so it washes out easily.
The Osprey badge on the Raptor 10 pack started to wear after a couple of washes. It's a shame it's not stitched on or embroidered.
The lower pockets lining is very light in colour. Although it allows you spot things easily, it also means that it shows up any dirt.
Test Info
Tested when - Winter, Spring
Level of care for kit - Left muddy and wet, and only washed when caked in mud
Tester size and shape - 5"9 and broad shoulders.
Other similar products used - Deuter, Camelbak, Evoc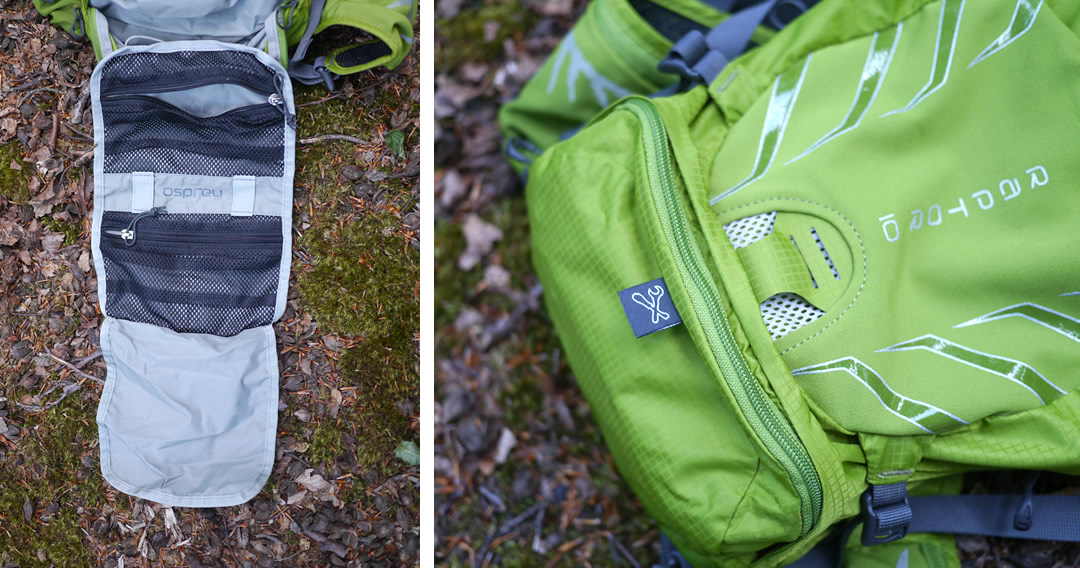 "An impressive product and a definite contender for best in class."
Final Thoughts
The Osprey Raptor 10 Hydration Pack is a small but well formed trail pack. It has a low profile and compact frame, but packs in a lot of technology as well as a 3 liter reservoir. All of the features add something to the pack. From the magnetic hose lock to the roll-up tool pouch, each innovation makes preparing for a ride or accessing the bag on the trail that little bit easier. All this adds up to an impressive product and a definite contender for best in class.
Find out more about the
Osprey Raptor 10 Hydration Pack here
.