ROSE Dr. Z 8 29er Review
Reviewed by:
Essex Herts MTB
-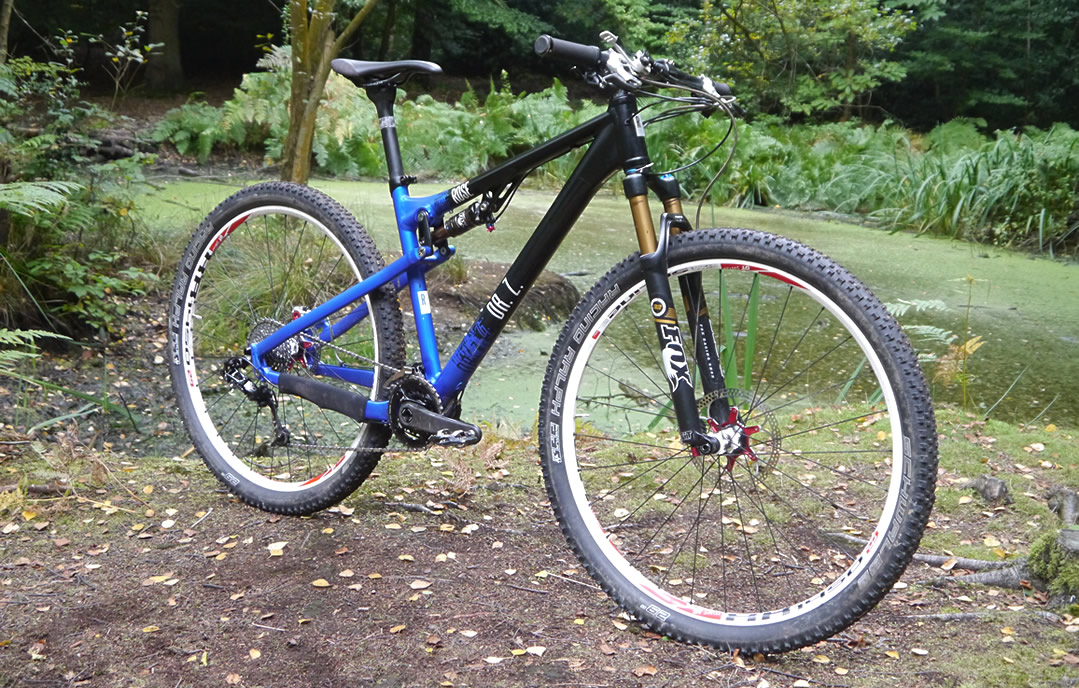 We take a look at the racy but fun ROSE Dr. Z 8 29er. Can a thoroughbred XC weapon allow you to get loose when out trail riding. We find out.
ROSE Dr. Z 8 Introduction
An XC race bike can sometimes be quick round your standard XC track, but in catering for outright speed they are sometimes just not 'fun' to ride. When talking to Rose they thought that the ROSE Dr. Z 8 might just change our mind about that. Billed as an XC bike that is also fun in the corners, we were keen to take a look. We have spent the last few months checking out the ROSE Dr. Z 8.
ROSE Dr. Z 8 Specification
Frame: Hydroformed alu Dr Z 29er
Fork : Fox 32 Float 29 Kashima CTD remote, air, 100mm
Brakes: Formula R1 Racing, 180/160mm rotors
Cassette: SRAM X0
Cranks : SRAM X0, 22/36T
Front Derailleur Model: SRAM X0
Tyres: Schwalbe Racing Ralphs
Handlebar Model: Easton EC70 carbon
Rear Derailleur: SRAM X0 Type 2
Rear Shock Model: Fox Float Kashima CTD remote, air, 100mm
Saddle : Rose VL1376U Light / Carbon
Seatpost : Easton EC90 carbon
Shifters : SRAM X0
Stem : Easton EA90
Wheels: DT Swiss
Weight (kg): 11.4
Weight (lb): 25.2
Colours: Black/Blue
Sizes: XL L M S
RRP: £2720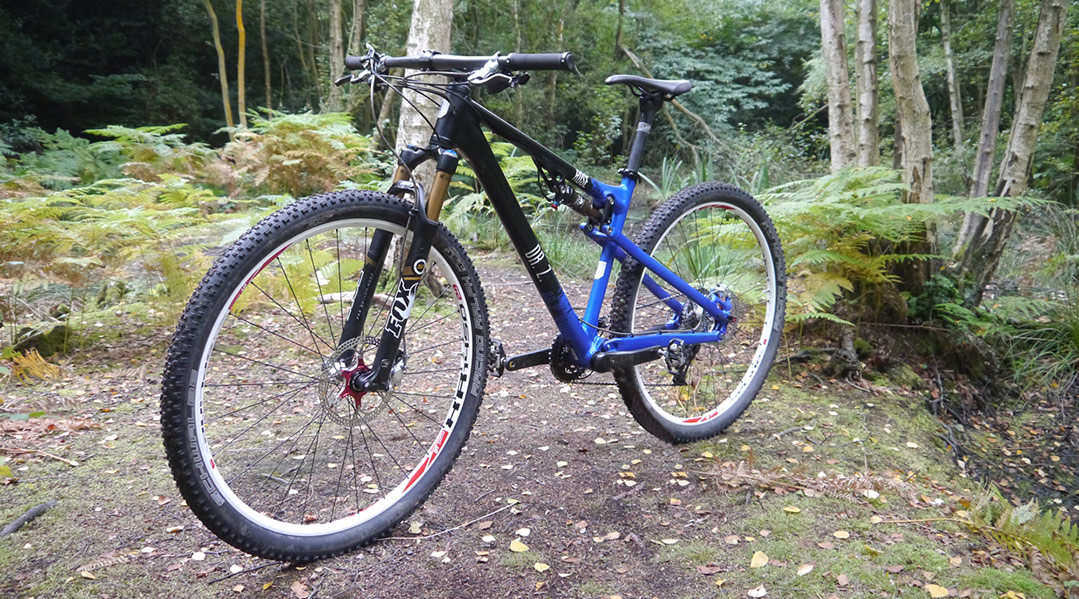 Rose have given the Dr. Z 8 fairly aggressive geometry for a XC bike which made it great to ride.
ROSE Dr. Z 8 Frame
The frame welds are neat enough and the chassis showed good alignment.
Rose have given the Dr. Z 8 fairly aggressive geometry for a XC bike which made it great to ride. The low bottom bracket, short stays and stiff chassis meant it was a pleasure on the climbs but as importantly fast and stable on the descents.
The Dr. Z blue black colour combo was hard wearing. The test bike we received had a year of testing under its belt, and still looked great.
The frame had good stand over for a 5"8 rider even though it was medium. The looks of the frame were aided by the aggressively sloping top tube.
The lowered seat stay is a neat feature to avoid chain slap.
The pivots were plenty burly for a short travel bike and we had no issues with the bearings despite repeated hosing and riding in grim conditions.
Rose have used very oversized tubing, where stiffness was needed, but also tapering and butting to give a compliant edge where needed.
The chain stays pivot location in line with the middle ring combined with the 4 bar design provided for a very neutral ride. The rear wheel tracked the ground even under heavy braking and pedal bob was limited even when the CTD was fully open.
The internal frame routing was easy to work with and sensibly laid out. There was no frame rattle from the cables bouncing around inside the frame.
Having the shock located under the top tube is a tried and tested design. However there is no getting away from the fact that the weight is high up in the bike raising the centre of gravity.
The stack height was a little too tall to allow for a lot of cockpit height adjustment. This is the trade off for using such oversized tubing on the down tube.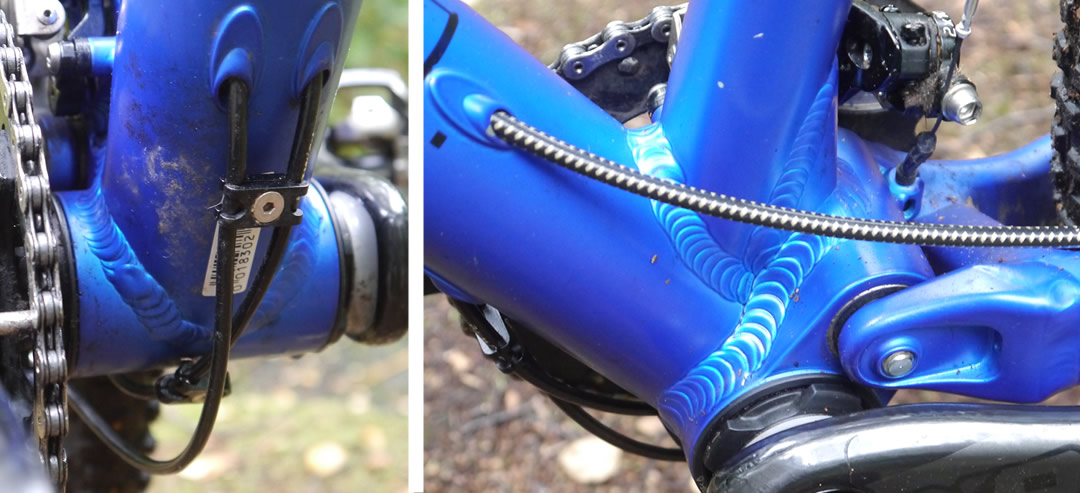 Rose have used very oversized tubing, where stiffness was needed.
ROSE Dr. Z 8 Equipment
The DT Swiss wheels are super light stiff, and stayed true with even tension, throughout the test.
Rose picked Schwalbe Racing Ralph tyres. They rolled amazingly well, but are definably a dry condition only option. You will need to invest in a more all-round tyre for most of the year despite the larger wheel size offering masses of traction. The thin sidewalls and small profile also resulted in a few flats.
The performance of the XO group is well documented. Its superb. The cranks are light and tough, and the shift crisp and reliable.
Formula R1 Racing brakes took care of stopping duties, and were a real surprise. As ever with Formula stoppers they have great modulation and superb ergonomics. However the long lever throw and poor reliability or previous generations, has been replaced by solid durability and very reliable throw adjustment. They also looked great although we still think that Formula's lever clamp is still too flimsy. Braided hoses added to the solid feel and raised the bling level.
Easton carbon handlebars helps take some tral buzz away wjhile remaining stiff.
The Dr. Z 8 saddle and seat post combo of the Rose VL1376U Light / Carbon, Easton EC90 carbon were reliable light and comfortable. The superb stand over of the Dr. Z 8 meant that not having a dropper wasn't a big deal.
The stem was far to long for really aggressive riding. It has a negative rise to help combat the long head tube length. At 90mm it helped keep the front end on the ground when climbing but pitched us too far forward on the descents. An adjustment to our body position was all that was required but it wasn't ideal.
The Easton EC70 carbon Handle bars were too narrow and combined with stem made for a very racy but hard to get loose riding position. Get your tuck on!
Although the XO group is great we felt a single ring option might benefit this bike. It would save some weight and the modern set ups still allow for a good spread of gearing.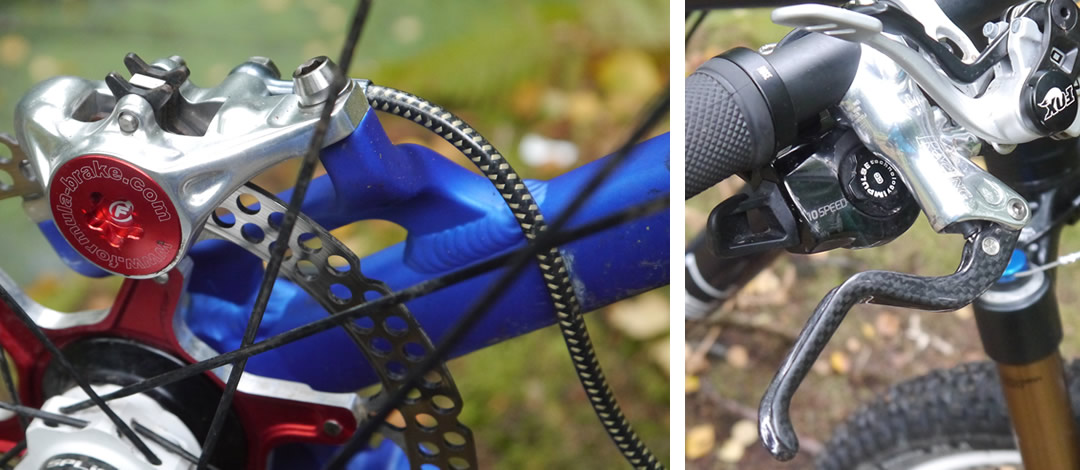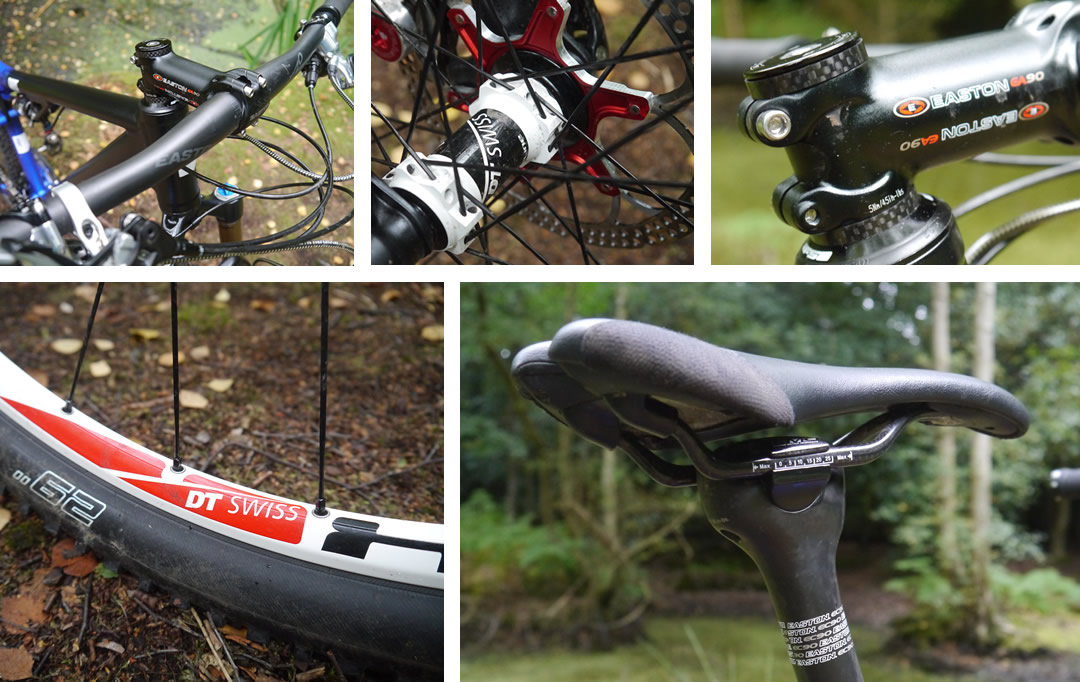 The DT Swiss wheels are super light stiff, and stayed true with even tension, throughout the test.
ROSE Dr. Z 8 Suspension
Fox's 2013 CTD suspension has not been well reviewed this year. In the 160mm and 140mm models we have tested. the damper simply didn't have the required control. Fortunately for the Dr. Z 8 the smaller volume of the spring, in both the front a rear, seemed to negate a lot of the CTD issues. We never use the descend mode but the climb mode provided a sensible climbing platform, and the trail mode was supple both on and off the brakes. Big hits were handled in a composed and predictable fashion, which is all you can ask for from a 100mm bike.
The Kashima stanchion's and Float shock shaft along with the 2013 seals, kept everything moving smoothly.
The Dr. Z 8 uses the FOX CTD lever. It works well, and is durable, but is a bit stiff and rather ugly.
Some of the negatives of the CTD platform were still there but it was much less noticeable. In particular the climb mode should be a bit firmer.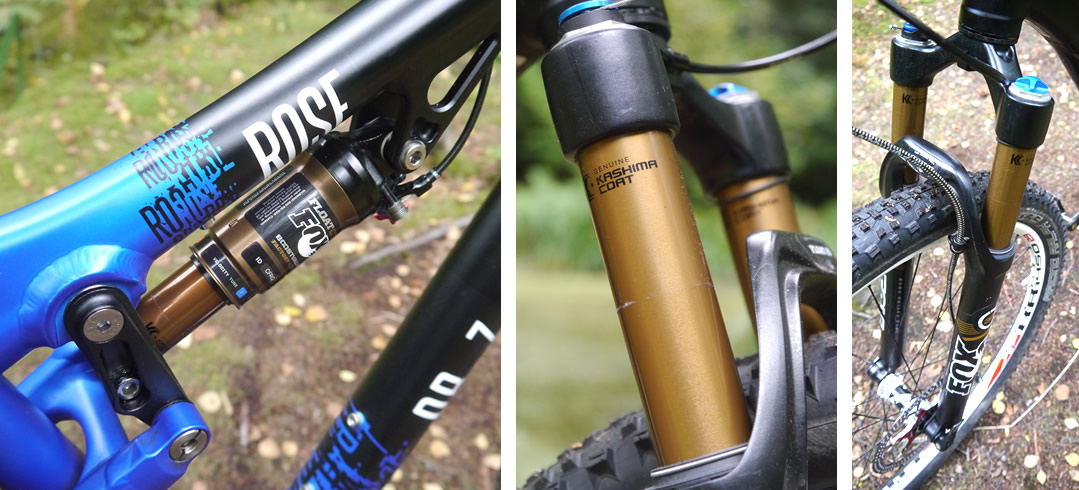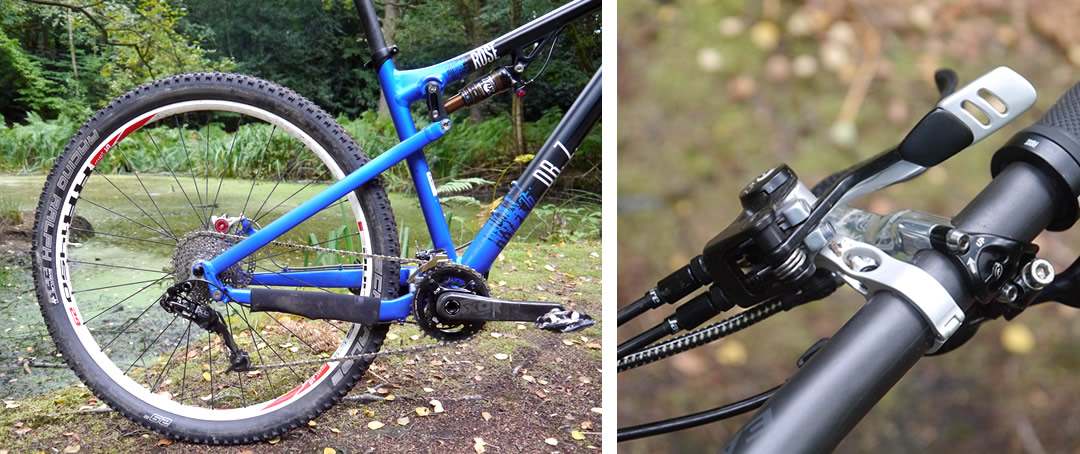 The smaller volume of the spring, in both the front a rear, seemed to negate a lot of the CTD issues
Test Info
Tested when - Summer Autumn - Sometimes dry but pretty wet.
Tested where - local trails and trail centers. Clay, slate and sand single-track.
Care level - Goodish. Washed and chain lubed after each muddy ride. 1 strip down during the test.
Tester height & weight - 173cm 75kg.
Tester riding style - Fairly aggressive on the trail. Always looking for the fun lines.
The ride and final thoughts
The Dr Z 8 is a certified XC weapon. Its 25lbs weight, fast rolling wheels and stiff frame mean that it goes up hill like a rocket ship. Importantly the light weight is in the right places with the DT Swiss wheel in particular, helping power the bike forward. The FOX CTD in its short travel incarnation works well, and the top spec SRAM gearing keeps the power delivery sharp and direct.
Surprisingly the Dr Z 8 is also a fun bike when not in a timed situation. It's an easy trail companion that we were happy to throw some shady lines at. It's given us confidence to monster through sections and get our drift on. The low BB gives real confidence in the corners and makes it a genuinely fun trail bike. So for £2720 your getting top spec kit, lots of carbon, top of the range Fox shocks and its great to ride. A shorter stem, wider bar and more all year tyres, and it would be a great bike for racing but also all day trail adventures.
Find out more about the
ROSE Dr. Z 8 click here
.