Schwalbe Muddy Mary Vertstar Tyre Review
Reviewed by:
Essex Herts MTB
-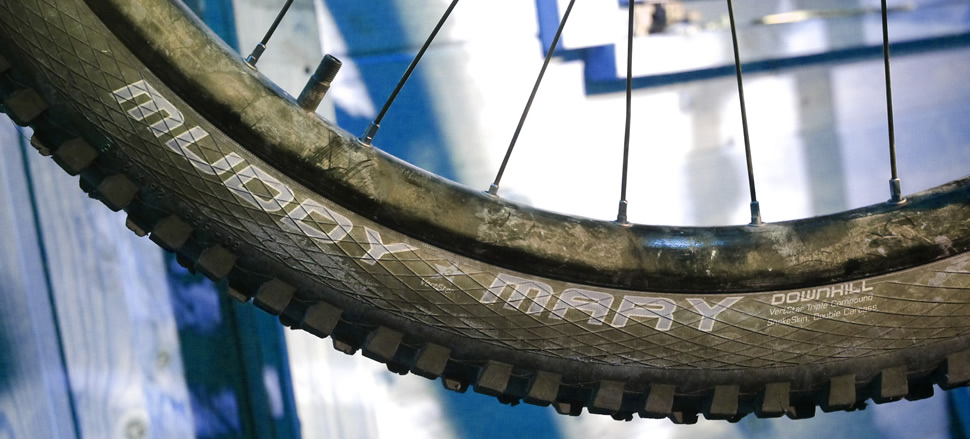 We are testing the Schwalbe Muddy Mary Downhill Vertstar Tyres. How do we rate the Vertstar, tripple compound, tacky teutonic treads?
The Specs
PSI: 23-50
Weight: 1190g
The outer side wall coating consists of a SnakeSkin with Snake Bite Protection
Schwalbe says the Muddy Mary is designed to handle 90% of trail surfaces.
The centre lugs are channelled to provide braking and acceleration traction and are ramped to decrease rolling resistance, while the shoulder lugs are channelled to provide maximum grip while cornering.
Limited Slip Technology (L.S.T.) - The tire bead has a special rubber coating that effectively reduces the tire slipping on the rim.
The Schwalbe Muddy Mary's come in lots of compounds. The PaceStar rubber compound (PSC) uses an easy rolling base layer with a medium grip centre layer and medium-soft shoulders. It's primarily designed to roll fast. The TrailStar compound (TSC) uses the same base layer with a medium-soft centre and soft shoulders. It's designed to provide lots of grip without sacrificing too much rolling resistance. The VertStar compound (VSC) uses the same base layer, but uses a super-soft centre and extremely soft shoulders.
We tested the sticky DH Vertstar version of the Schwalbe Muddy Mary.
They come in 2.35 and 2.5 sizes.
Performance
The Schwalbe Muddy Mary's are mid weight in comparison to other DH tyres. They spin up and slow down as you would expect a big dh tyre to.
They roll quicker than previous DH tyres I've tried. I felt I was carrying more speed on the flat in comparison to comparable Maxxis rubber. Maybe the triple compound working its magic?
The Muddy Mary's wear much like any other soft compund DH tyre. There is just enough tread left on the back, after 6 months of local trails and 8 days in the Alps. The super soft center blocks showed the most damage.
Importantly, performance doesn't dramatically fall off as the wear increases. It seems as though it's the compound, more than the tread pattern which is providing the grip.
The Schwalbe Muddy Mary's corner predictably. They give confidence inspiring edge to edge grip, in most conditions. They doesn't rail like say, a high roller, but there is a good range where they will hook up allowing you to carve.
The transition to the corner knobs is smooth and consistent. There are no nasty mid range washouts as you lean them over.
Hard surfaces like rock and shore are handled well. They feel planted and offer enough feedback to let you know when they are going to let go. The soft compound and the strategic snipes seem to offer good control in these environments.
The Muddy Mary's shed mud well. They do not clag or turn into a mud super slick. The knobs are just far enough apart to let go of the mud.
Their all round solid construction, has meant no issues with flatting when casing jumps or rattling through rock gardens.
The size tested was a 2.35 They come up about the same as a Maxxis 2.5. It's a good size for DH with plenty of cushioning but not so big that it generates a lot of drag. I've no idea why tyre manufactures cant agree on how to size tyres, so the consumer know what they are getting.
The Schwalbe Muddy Mary's solid construction means you need to drop the pressure on these or they feel skatey in the dry. Normal pressures = too hard. This makes finding the PSI sweet spot, a bit of a pain. You will need some time to test out what works for you.
Even with the pressure dropped, gravel and dust are where these tyres perform worst. They offer ok grip, but if you ride in those conditions most of the time choose something else.
Useability
The Muddy Mary's feel like a quality product. They have a sturdy construction and there is a lot of detailing. The exo webbing looks smart.
Sturdy exo sidewalls means that running tubeless is a good option, as there is lots of support at low pressures. I've had no issues with sidewall wear or tearing, which is crucial when running tubs.
The Schwalbe Muddy Mary's Exo sidewalls and firm bead means you will be doing some mad wrestling to get these buggers on a rim. Getting them off isn't aided by the "Limited Slip Technology" which keeps the bead in place for tubs, but also stops tyre levers sliding round.
The RRP is expensive. You can find good deals if you hunt about.
Test Info
Tested on - DH bike, 6 inch bike
Used on Mavic EX729, Syncros DS, Sunn MTX, rims
Used with Specialized Standard DH Tube
Tested when - Winter, summer, autumn - for 9 months
Tester riding style - a bit of a hack... drags waaay the back brake too much!
Level of care for kit - not a lot.
Other similar products ridden - Minions, High Rollers, High Roller IIs, Swamp things, Dirty Dans, Michelin Wild Gripper

Final Thoughts
Until someone invents a cheap, super tacky, fast rolling, ultra durable rubber... tyre choice will always be a compromise. For those of us without a support truck, or the time to keep changing their tyres to suit the weather, the Schwalbe Muddy Mary's large operating window and all round solid perfomance is a win. They aren't a race tyre, but an 'any condition' set of rubber, which you can fit and forget. Often in one day in the mountains you will encounter everything from dust to bog, and this will handle them all with confidence. If I was only allowed to take 1 tyre on an Alps holiday, this would be it. Just be aware that you might have to tinker with the pressures to get the best out of them.
In the end, tyre choice is very much personal preference, but if your looking for an durable 3 season tyre, then the Schwalbe Muddy Mary should be near the top of your list. To find out more about the Schwalbe Muddy Mary Downhill Vertstar Tyre head over to
Schwalbe's
website.