Superstar Nano Tech Flats Pedals Review
Reviewed by:
Essex Herts MTB
-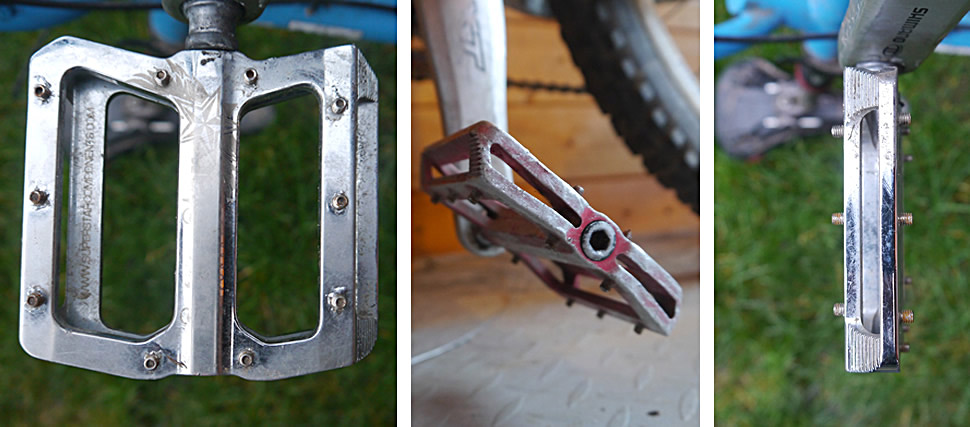 This week we are looking at the Superstar CNC Nano Tech Flats Pedals. They get good reviews, but having owned many pairs, what do regular hacks like us think?
The Superstar CNC Nano Tech Flat Specs
17mm at their thickest point
Pedal Platform size is 105x100x17mm LxWxD
Fully sealed cartridge bearings - Replaceable
Multi seal approach
Concave pedal body
Replaceable grub screw grips
Pedal Weight:446g
Available in 10+ colours
Ride quality
The Superstar CNC Nano Tech Flat's have a good sized platform. Not to big so that they clip things but big enough to support size 10 shoes. You can ride slightly off the front or back & still get lots of support. Thats super important when the going gets wild.
They are low profile enough (17mm) & don't involve an complicated open axle design, or single bearing layout.
The Nano Tech Flat's shape is concave. I never felt on top of the pedal. The overall feel is of being well planted.
They are stiff & solid when cornering aggressively, or dropping hard. There is no flex in these fellas.
The grub screws pins are a good length, & grip is more than enough with stealth rubber booties. Too much grip can be a bad thing, & these are spot on for general riding.
If you are a modding master, you can get whatever length grub screw you want for pennies & tweak the pedals. I saw a winter set with longer pins round the outside, which had savage grip.
The Superstar pedal's grub screws are also the right diameter (4mm). Thinner pins tend to cut stealth rubber to shreds, & any skin they come in contact with. An important consideration, for those of us wanting our fiveten's to last.
The Superstar side slats hold a bit of goop. You can remove it with a thin screwdriver if needed.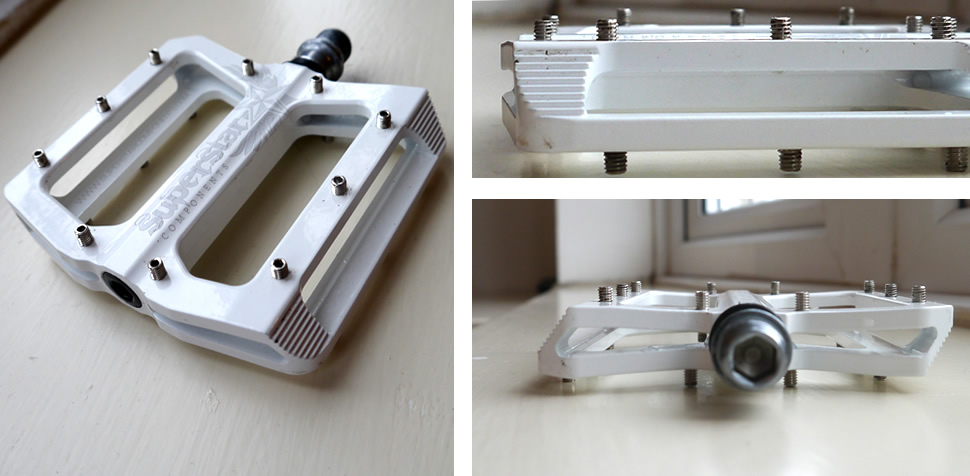 "They keep spinning smoothly for ages. I've owned 4 pairs & never had one get crunchy or had any play"
Set up, Durability & maintance
Superstar pedals come with a 2 year warranty & a crash replacement scheme for peace of mind. That's a pretty good deal.
The boxing & packaging is neat and most of it can be recycled.
The Nano Tech Flat's keep spinning smoothly for ages. I've owned 4 pairs, & never had one get crunchy or had any play despite taking some big hits.
I have never had one bend or break.
The axle looks easy to service.. but I cant tell for sure as they have been so reliable I've never had to take them apart.
There are lots of options & spares are available from Superstar, so you can mod them as much as you like. A big advantage for those of us wanting to eeeeek out the most from our gear.
The pins are resistant to rust.
Don't expect the same finish as Straitlines / Hopes etc. The Superstar finish is on par with the price. Red pedals become pink, quicker than I would like. However this does seem to vary between batches of pedals. Others have had better luck than me. The chrome ones (£5 extra) looked good after 12 months of use.
The grub screws fill with mud, & make pin extraction difficult.
Pins have been ripped out, on all of the sets I've owned. You can avoid this by going for the through pin version, but then you have to use a Dremel to remove bent pins. I have smashed through alpine rock gardens with them, so it's not really a surprise.
Only having an Allen key option to fit the Superstar pedals, is a pain if they get stuck on. You can get a lot more purchase with a pedal spanner, which helps when they seize up. It would also allow you to do the spin the cranks trick, to whack them on quickly.
Test Info
Tested on - DH bike, 6 inch bike, hardtail
Tested when - Winter, spring, summer, autumn
Tester riding style - loose & sketchy.. loves to plough!
Level of care for kit - not a lot. Pedals left wet & muddy & regularly blasted with a hose.
Other flat pedals ridden - Easton, Straitlines, Kona Wah Wahs, DMR V12
Final Thoughts
The Superstar CNC Nano Tech Flat's are a sensibly shaped, & a ridiculously durable pedal. They aren't as pretty as some off the £100 trinket pedals out there, but pedals get gouged & smashed so its hard to care. They stay durable where it matters, & are cheap enough. Its tricky to justify to the better half, why you would spend more! If you could use a pedal spanner on them they would be even better. But as they are, you get an excellent high performing low hassle pedal, for under £40. Superstar in my experience also offer good customer sevice.
The Superstar CNC Nano Tech Flats are available from
Superstar Components