Uberbike Components Bash Ring Review
Reviewed by:
Essex Herts MTB
-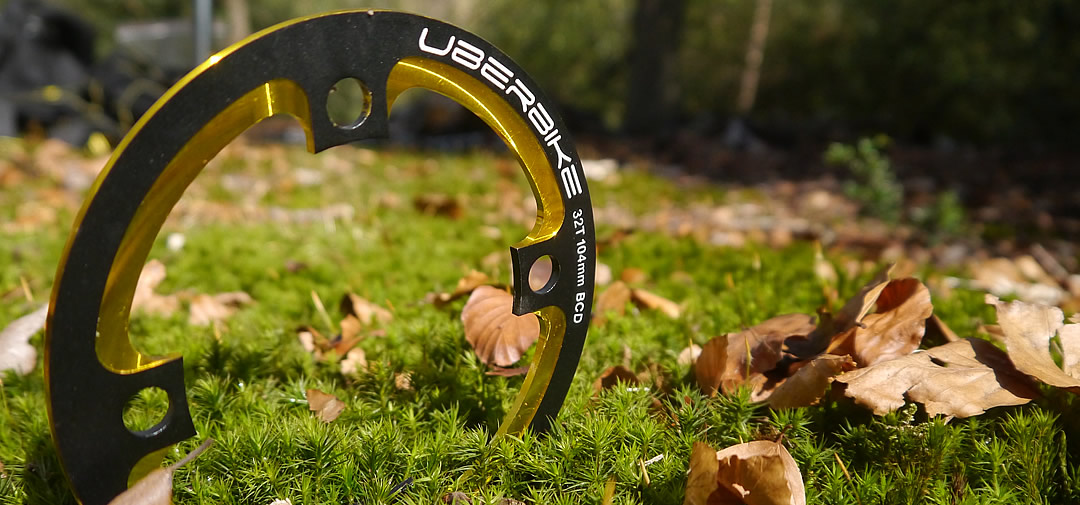 Specification
Material - CNC machined 6061 T6 alloy.
Finish - Double anodised Gold/Black colour finish with laser etched logo.
Bolt Pattern - 4 Bolt 104mm BCD.
3mm thick.
Weight - 49g
Intended use - To protect dual ring and singlespeeds. Designed to cover up to 32T chainring. Light to Mid use, not designed for high impact use.
Supplied with fitting kit.
RRP is £27.99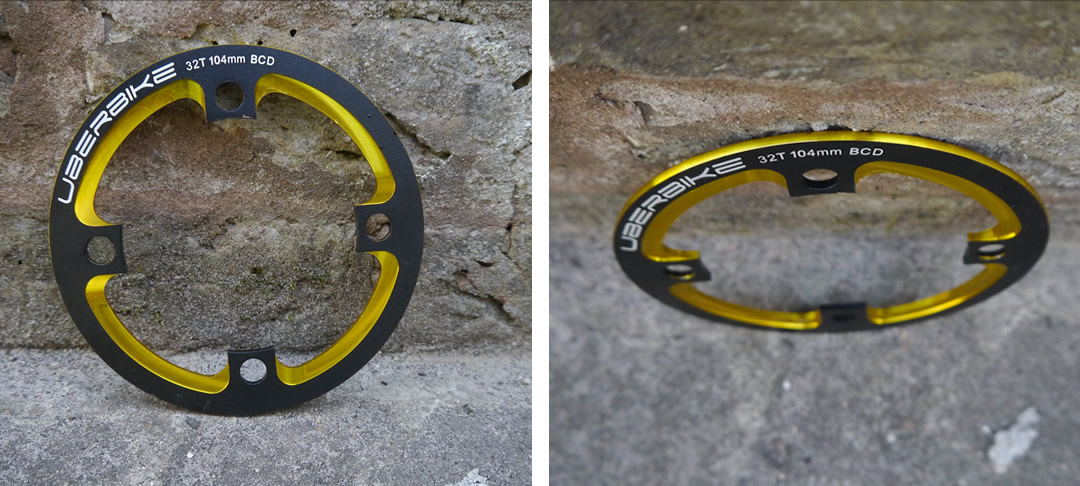 "In the flesh the finish on the Uberbike Components Bash is first class."
The Uberbike Components Bash Ring on the trail
In the flesh the finish on the Uberbike Components Bash is first class. The polished gold anno has a nice luster to it, and it was durable throughout the test period.
The sizing was just right. Using this 32 bash on a 32 tooth ring, there was enough coverage to protect the ring, without it looking like a dinner plate.
The laser etched logo showed no signs of wear.
The contact edge of the bash is polished, and as such slips over obstacles really well. Instead of smacking into them it felt more like a glide. Fallen trees were dispatched with ease.
Despite some hefty impacts the Uberbike Components Bash Ring did not bend or dent. Although its light its made from fairly chunky alloy, and the impact stress is limited by its ability to glide.
It's relatively good value at £27.99
It's only available in red and gold.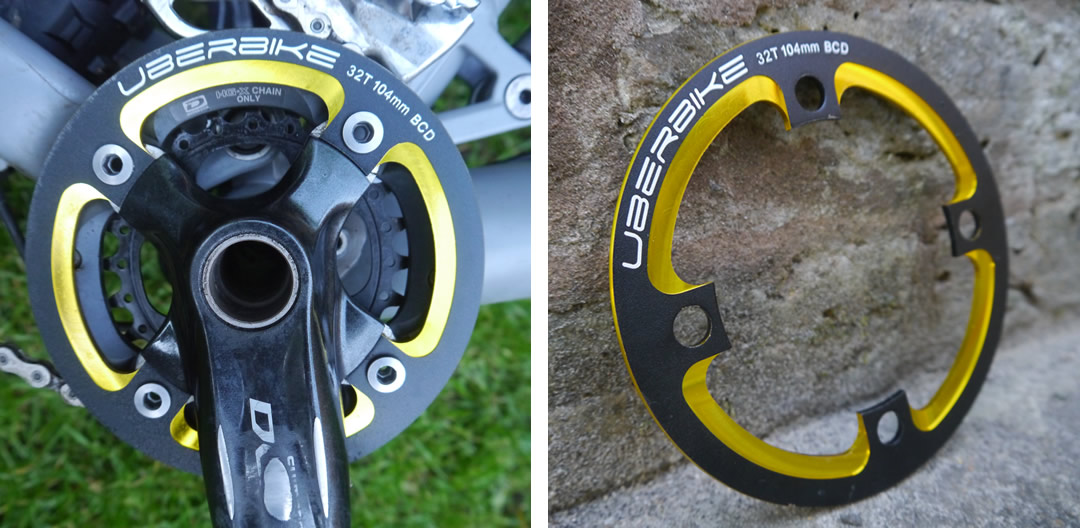 "It's only available in red and gold."
Test Info
Tested when - Spring Summer
Tested on - hardtail and trail bike both with triple chainsets converted to doubles
Care level - washed occasionally. Usually left muddy
Tester riding style - Fairly aggressive on the trail. Happy launching into trail obstacles.
Final Thoughts
Its great when a bit of a kit arrives, and its better than you think from the pictures. The Uberbike Components Bash Ring is just that. Its much nicer looking in the flesh, and those good looks are kept in place by excellent strength and durability. The polished edge allows it to glide over obstacles. It can handle bit hits too, and it's still running straight to this day.
The limited range of colours limit its appeal to those who like to coordinate their bling. But if a red or gold will work for you then it's an excellent bash for a good price.
Find out more about the
Uberbike Components Bash Ring here
.