Uberbike Finned Brake Pad Review
Reviewed by:
Essex Herts MTB
-

We review Uberbike's finned brake pads. Finned brake pads have been around for a while but does Uberbike's implementation finally make it a wallet friendly upgrade.
Uberbikes Finned Brake Pad Introduction
Shimano made a genuine enhancement to braking with the introduction of their finned brake pads a few years back. However they came in at twice the price of after-market replacement pads. As such, despite running Zee Saint and XTR over the last couple of years, as soon as the finned pads ran out, they got replaced with normal pads. Uberbike look to offer a sensibly priced option, where you buy the fins once, and after that all you need to buy are the pads. We find out if the cost savings of this approach, can match the performance of the originals.

"Uberbike disc brake pad inserts are replaceable, allowing you to reuse the finned backplate time after time."
Uberbikes Finned Brake Pad Specification
Re-usable alloy finned backplate, designed for maximum heat dissipation.
The finned design reduces pad brake surface temperature by approx 50 degrees.
Uberbike disc brake pad inserts are replaceable, allowing you to reuse the finned backplate time after time.
Weight per pair - 26g (includes 2 alloy finned backplates, 2 disc brake pad inserts and retaining spring)
RRP is £13.99 for a pair of pads and fins
Race Matrix inserts are £8.99 per pair or £29.99 for 4
Sintered inserts are £6.99 per pair or £22.99 for 4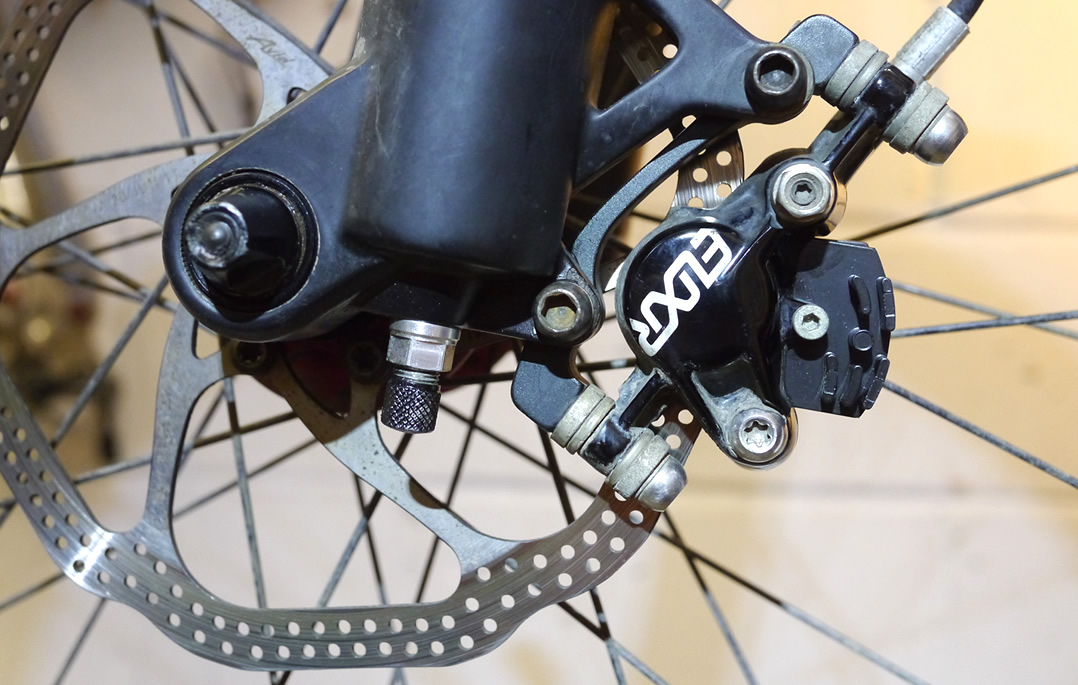 "The finned design reduces pad brake surface temperature by approx 50 degrees."
Uberbike Finned Brake Pad Design & Durability
The supplied pads are the excellent Uberbike Race Matrix compound which we reviewed here. Read the review, and you will see that we really liked them. In summary they have great grip, durability and reduced squealing!
The braking surface is not permanently attached to the backing plate. It arrives in the form of a removable insert. The tolerances are excellent and it all slots together neatly. Once the pad is used up, all you do is swap a new insert into the finned backing plate. The inserts are cheap at £8.99 per brake.
The fins have been tailored to each type of brake calliper ensuring a neat and tidy fit. I've had issues with finned brake pads being noisy over rough terrain, but had no such problems with the Uberbike pads. As with the normal matrix pads they come with thick and durable springs, which do help snug the pads in place.
We didn't notice any negative performance effects from the pad design. They have been covered in mud, jet washed etc. There has been no noticeable decrease in braking feel, performance or increased vibration or noise. Its business as usual but with extra cooling!
Not all brands of brakes are covered yet, but Uberbike have promised that most modern brakes will be included soon. Currently they are available for Formula, Shimano, Avid Elixir. Avid XO/SRAM Guide and Shimano Saint/Zee finned pads are scheduled for early March
Despite being cheap the Uberbike finned brake pads feel really well made. The anodising is silky smooth and even and the etching of the logo is sharp and tidy.
The Uberbike fins are useful for pressing back pistons if you have no old pads lying about. Not their intended use but useful none the less.
I normally get through 6 pairs of pads a year. Using stock Shimano pads that would cost me £90-£120. Using the Uberbike pads the cost would be around £62. That's a worthwhile saving.
Uberbike have brought finned pads to brands where this prevoiusly wasnt an option. Avid, Hope and Formula fans rejoice!
It's more fiddly getting the Uberbike finned pads in and out, due to them not being a 1 piece unit. This may be an issue when trying to change them with cold hands, in a trail head car park, but not a big issue in the workshop.
There is the question, as to whether you need finned pads in the UK at all. If you ever take your bike abroad, then a case can be made. But it is up to you if you feel that your type of riding will benefit from the temperature drop they generate. The outlay over non finned pads is minimal. It's more a question of whether the the extra weight is worthwhile for your type of riding.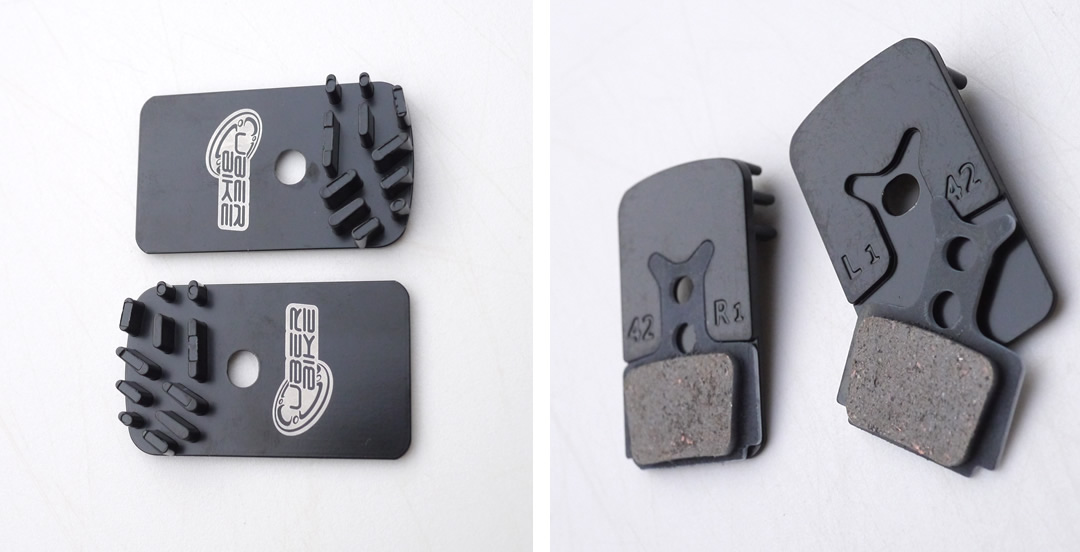 "I get through 6 sets of pads a year. Using stock Shimano pads would cost me £90-£120.
The Uberbike pads would cost around £62"
Uberbike Finned Brake Pad Test Info
Tested – Winter 2014 on short UK runs. No extended hot testing yet.
Fitted to - Shimano XTR and Avid Brakes
Similar products used – Shimano XTR, XT & Saint finned pads
Uberbike Finned Brake Pad Test Info - Final Thoughts
The finned brake pad system is an innovative product from Uberbike. They are offering a solution which allows you to run finned pads, at 50% the cost of Shimano, while also offering them to other brands. It's a win win. Performance is excellent as they use the matrix compound which we have been running for 2 years.
If you want finned pads then they need to be at the top of your list. Whether you need finned pads is up to you.
Find out more about the
Uberbike finned brake pads here
.