Wippermann Connex Chain Link Review
Reviewed by:
Essex Herts MTB
-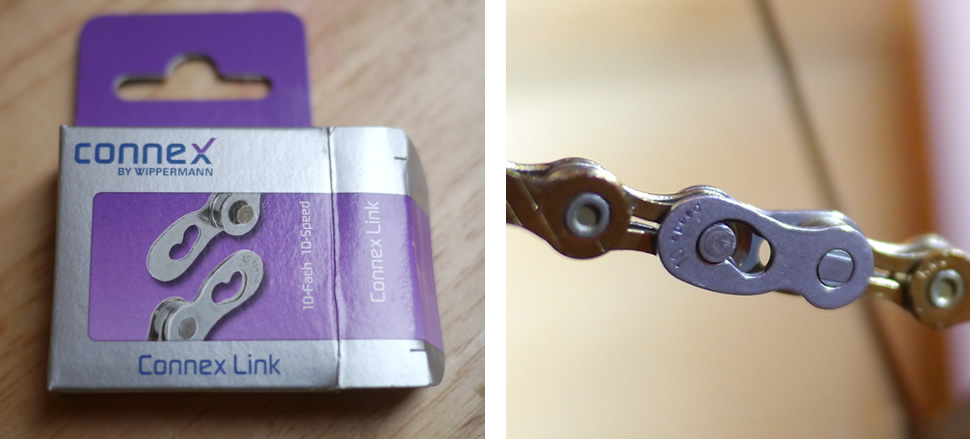 Is there a removable chain link out there that actually works for a 10 speed system? The funky looking Wippermann Connex Chain Link promises to do just that.
Chain link rant!
With the switch to 10 speed gears, the idea of a easy to use chain link seemed to be ditched by the manufacturers. Maybe they thought that the narrowing of the chain meant they couldn't produce a chain link strong enough? Whatever the reason, not having one is a pain in the ass. Shimano haven't had removable links for a while, so we all used to use SRAM Powerlinks on our 9sp systems. Now SRAM have moved to a non removable powerlink for 10/11 speed, so that is no longer an option.
There are some alternatives out there. KMC have their missing link. Annoyingly the missing link is really tight and hard to undo... so much so that you need some pliers to get the things undone. Sods law, the time you don't have pliers in your pack, will be when you get some insane chain jam, needing the chain to be split. You can mod it to work, by filing it down so it can be opened by hand, but then you are just going to weaken it.
But what if there was an option out there that just worked? This question led me to the
Wippermann Connex Link
. This promised to be issue free for 10 speed systems. Wippermann are a German company with a long heritage in making chains. They don't have a massive presence in the UK, apart from in the BMX market, despite having some funky options like
this
on offer. So How did we get on with the Connex Link?

"The Connex link is easy to put on, and take off without tools, even with cold wet hands."
Hit or miss?
Shifting with the Wippermann is good. The link doesn't catch on jockey wheels or guides.
Tested with Shimano 10sp and KMC 10sp. There is no reason that it shouldn't work for SRAM as well. They all run the standard 10 speed width of 5.9 mm, which the Connex Link works on.
The link looks weird, with some plate overhang as you can see in the pictures... but it seems to work well. I've no idea if that design adds strength, but it doesn't seem to cause any problems.
The Connex link is easy to put on and take off without tools, even with cold wet hands.
The weird plates mean that it's easy to spot, when you're having to look for it on a muddy chain.
Its worn well thus far. No rusting or sticking.
Although activating the link is more fiddly than the old SRAM Powerlink, the Wippermann Connex Link is more reliable when wet and dirty.
It's also available in 8 and 9 speed options.
The Connex Link is about £6 here in the UK. Too much for what it is, and twice the price of a SRAM 9 speed powerlink.
You have to put the link on in a certain way for it to work. You learn it after a couple of goes. It requires a little bit more thought than the old SRAM powerlinks when both are clean.
You do have to get the links in a vertical position to split the chain. The SRAM press and pull technique was maybe easier when clean. The Connex Link does work however, when using the right technique, even with stiff clutch mechs.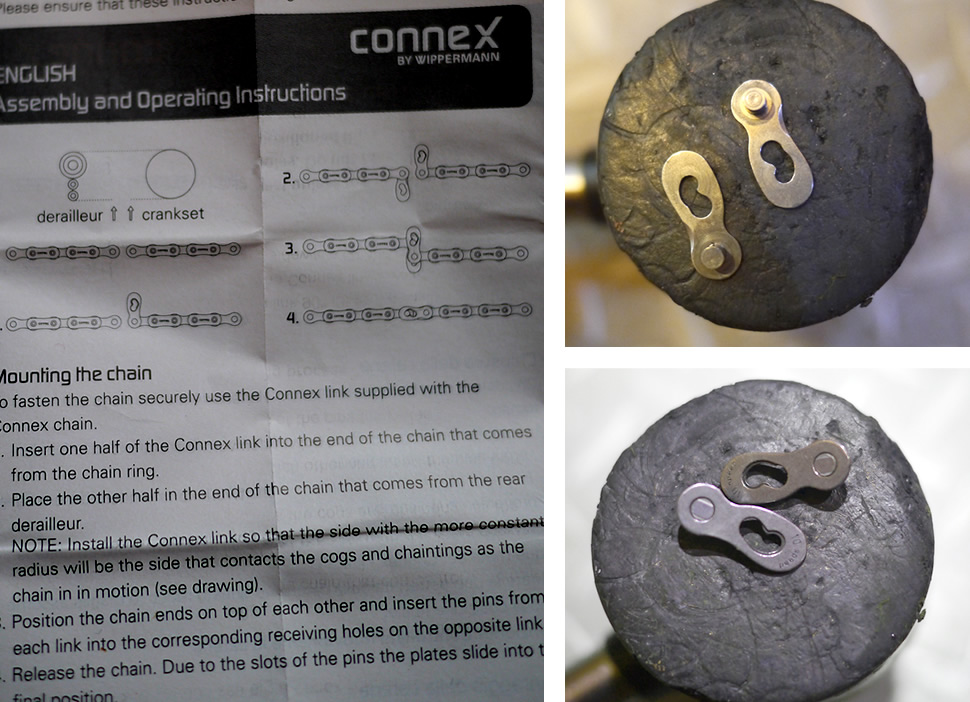 "The Connex Link is about £6 here in the UK. Twice the price of a SRAM 9 speed powerlink."
Test Info
Tested on - DH bike, hardtail
Used with, PG991 (9 speed SRAM), KMC X10 Light (10 Speed Shimano)
Tested when - Winter - 2 months.
Level of care for kit - washed after ride and lubed.
SRAM Powerlink, KMC missing link
Final Thoughts
Overall this is a great bit of kit, and gives me back the ability to get the chain off quickly and without sore thumbs, clenching, yelling and straining. We will have to see how it performs in the long run (12 months plus). As Wippermannn put the Connex Link on all their chains, I cant see it being a problem. Going forward this will be a must have item, on all my 10 speed builds.
The Wippermann Connex Link is made by
Wippermann
. There are numerous Uk stockists.